The second game we got to check out from Outright Games at E3 was their collaboration with Cartoon Network in Adventure Time: Pirates Of The Enchiridion. This is one of those circumstances where you have a game based on a popular series with some continuity, so you kinda have to ask yourself where it fits. According to the devs and a CN rep at the show, the video game takes place in-between where the current season is and has no effect on what's happening on the show. It's basically a fun ide-adventure that is both a part and not a part of the canon.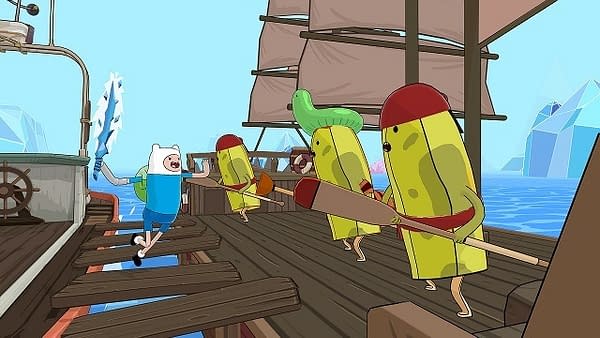 We got to watch a quick ten-minute demo of the game where we helped make some of the choices, including sailing on a ship named Jeff and having Interrogation Time with the Ice King about what was going on at the start of the game. It's a bit of an open world exploration platformer that uses Jake in hilarious ways like being a scooter to get around faster and extending his arms out to collect items at sea for Finn to use. Overall, this looks like an awesome game that Adventure Time fans should get a kick out of. We can't wait to try it when it releases in July.
Enjoyed this article? Share it!