Clicking on the Bloodborne: The Board Game Kickstarter page right now is like watching the national inflation clock: the number keeps going up in real time as people keep piling on the pledges from the latest offering from CMON.
Surprising? Not in the least. It's still cool to watch, though, as that number keeps scrolling closer and closer to a million smackeroos.
CMON has become a pretty trusted name when it comes to Kickstarter projects, having already created and fulfilled 37 game projects on the crowd-funding platform to date, with some already classic titles like Zombicide in the mix.
So, what's going on with Bloodborne: The Board Game? There's a ton of miniatures already, and knowing CMON that number is sure to go up as the project gets closer to its completion date.
Here's what's in the box: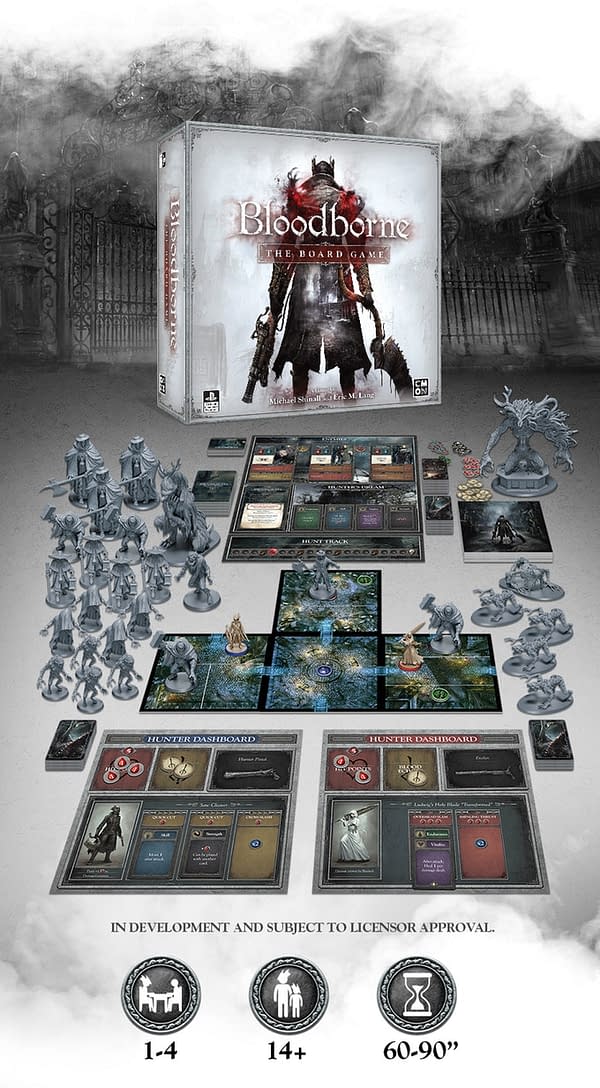 Bloodborne: The Board Game is a dark and challenging action game designed by Michael Shinall and Eric M. Lang, where 1 to 4 Hunters must explore the town of Yharnam and fight their way through beasts, monsters and frenzied townsfolk to survive the night and uncover the source of the madness that consumes it. Based on the award-winning Bloodborne video game by Sony Interactive Entertainment, the board game brings the beloved title to life with amazing miniatures!
Bloodborne: The Board Game will be accepting pledges until Tue, May 14 2019 at 7:00 PM MDT, after which you'll just have to wait until the game hits retail stores to pick it up.
If you're anything like me, you probably want to see the miniatures a little more clearly before you jump on board, so here's a better look:

And here's the campaign video for the Kickstarter project, showing of some more of the goodies in the game, and how well it captures some of the flavor of the video game:
It goes without saying that a lot of these miniatures would go really well with other fantasy based table top games!
Enjoyed this article? Share it!