Adventure Escape Mysteries Receives New Clue Crossover
You can now play a special crossover event in Adventure Murder Escape as the characters and setting of Clue drop in.
---
Tilting Point and developer Haiku Games have partnered with Hasbro to bring the game Clue over to Adventure Escape Mysteries for a crossover event. Starting today and running all the way to March 20th, the infamous Tutor Mansion and all six classic characters (in their modern form) from the tabletop game will be added to the mobile app, as you will have to solve the murder of Mr. Boden "Boddy" Black. Much like the regular app games, you'll need to solve intricate puzzles to figure out who committed this grizzly murder. The crossover is primarily here to show off all of the characters in their new form as Hasbro has updated their look for the game in 2023. We have more info on the event for you below.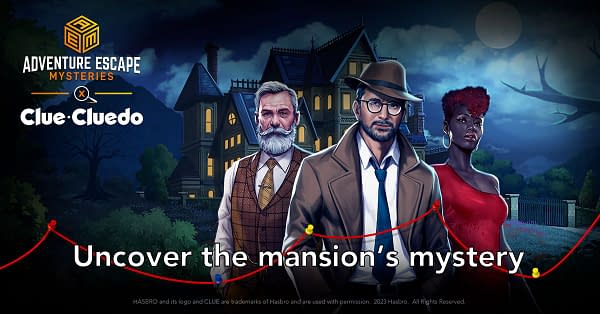 "Free to all players from February 23 through March 20, Adventure Escape Mysteries players will investigate Mr. Boden "Boddy" Black's murder by solving intricate puzzles as Detective Brown searches throughout the mansion. Players will meet the recently reimagined versions of classic characters from the Clue board game, such as Professor Plum, Chef White, Miss Scarlett, Solicitor Peacock, Colonel Mustard, and Mayor Green, all of whom have been given an all-new look by Hasbro at the top of 2023. Unravel the murder mystery featuring multiple suspects, each with their own motive for the crime."
"In Adventure Escape Mysteries, players investigate cryptic clues, unravel mysteries, and solve puzzles in an immersive blend of escape room puzzles and traditional adventure games. Play over twenty unique mysteries, from solving murder mysteries as a detective to adventuring across the high seas as a pirate. The classic mystery board game Clue has continued to entertain generations of mystery lovers for over 70 years and has been adapted across film, television, books, and more. Clue continues to reach the newest generation of crime-solving fans through reimagined characters embodying the timeless spirit of adventure, mystery, and ingenuity."