Nexon Mobile and Neople Studio 42 has officially announced they're going to be releasing a new Godzilla mobile game with Godzilla Defense Force. Going all out for the 65th anniversary of the franchise, players will battle and collect legendary monsters from all 29 movies in the Japanese production company TOHO's classic Godzilla series. This game will basically be a cinematic history lesson in the form of a battle defense game, starting with the original 1954 film all the way to the latest film. You will gain allies along the way and collect a series of kaiju to join forces with and fight against, all in the name of Godzilla! The game has no release date yet, but we do know it will be out on both iOS and Android devices. For now, enjoy the trailer!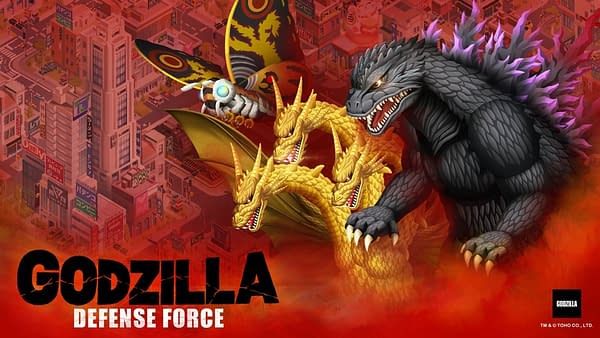 "Godzilla Defense Force weaves TOHO's legendary Godzilla series with a fantastic blend of card and defense building mechanics to create unique mobile experience that reflects the heart of the franchise," said Jaeho Hwang, Director of Neople Studio 42.

Players will improve their ability to defend the world by building an increasingly powerful deck of Monster Cards by defeating world-threatening KAIJU, which can then be strategically used to give new skills and buffs to their decks. As players collect Monster Cards, they not only build their deck's power, but also add to their Codex, unlocking detailed descriptions of monsters alongside images from their respective movies. When they're not defending cities, players can bolster their forces through lunar colonization.
Enjoyed this article? Share it!