Guns Of Glory Announces Free Lost Island Expansion
FunPlus revealed a whole new expansion for their mobile game Guns Of Glory, as the Lost Island DLC will be free for all players.
---
FunPlus has revealed that their pirate mobile title, Guns Of Glory, will be getting a free expansion as players will be making their way out to find the Lost Island. The goal of this content is to expand the game's lore with a new story arc involving the Iron Mask and his fight against the Pirate King, "Blackbeard" Edward Teach, as well as having to deal with Ghost Pirates who have surfaced after a major change in the tide of war. Thankfully, new allies from the Lost Island have joined forces with Iron Mask to combat the new threat. The update is now live as we have more info about it below.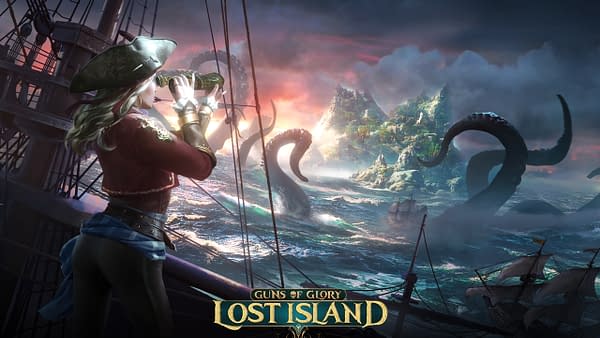 "Led by a mysterious adventuress, a legendary team has arrived on the continent, and players will have the chance to recruit these brave adventurers as their New Guards. With unique skills, they can help players gain advantages on the Lost Island. As the Lost Islands reemerges, players must prepare for the new gameplays & events, "Relic War," and "Treant Invasion" and more. The "Relic War" event has four stages: Registration, Preparation, Battle, and Ownership. During the Battle Stage, players can attack Relic Ruins and defeat the enemy troops inside. Ownership of each Relic Ruin is determined by Alliance Points, which provide benefits to help players advance in the event. In "Treant Invasion," players must earn Treant Scrolls by attacking threats on the Kingdom Map. These scrolls can then be used to summon Treants, which players can attack by launching or joining a Rally. Alliance members will receive rewards at the end of the event based on the number of Treants they have slain."
"In the depths of the sea, hidden treasure awaits. In the upgraded "Mermaid" system, players can unlock the Treasure Diving gameplay to find the buried treasure. New Mermaids are also available, and players can strengthen their rule by building relationships and sending gifts. With the release of the new expansion, Guns Of Glory also introduces several events, new skins, and powerful Guards that players can claim for free. Additionally, optimized content and convenient features have been added to better serve players on the battlefield."