Now that Earthfall has been officially released, the developers over at Holospark want to let you know there's a lot more content coming for the game. The company unveiled this roadmap today showing off what they've got planned for the next few months, and it already looks pretty impressive. Sometime this August you're already getting new missions, enemies, weapons, skins, and more.
But skip ahead two months into October, and this is where things look like they're going to get insane as you'll have a new Horde Mode added with an Invasion storyline attached to it. We have a few more details for you from the devs, including a trailer to show off the roadmap.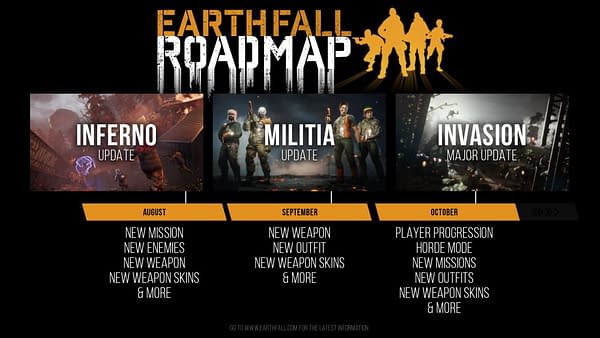 Horde Mode arrives in the October update, where players must set up fortifications to hold out as long as they can as the alien forces grow ever stronger and relentless. Players will also be able to level up to 50, earning experience points to unlock outfits, weapons, and new abilities. Two shorter DLCs will also land in August and September, including new levels, enemies, weapons and skins. The August DLC will include a new level, "Inferno," as well as the vicious new enemy aliens, the Fire Spitter and Fire Sapper.
Enjoyed this article? Share it!