Konami has released new details this week of what you can expect in the TurboGrafx-16 Mini, including games and accessories for the console. We have a complete list of all the games here, as well as a trailer showing off select titles. But the big additions to the console are the Turbo Controller which comes with an automatic shooting function, the Multi-Tap which enables up to five-player multiplayer, and a USB AC Adapter. The console will be exclusive to Amazon when it's released on March 19th, 2020. Pre-orders will kick off on July 15th for $100.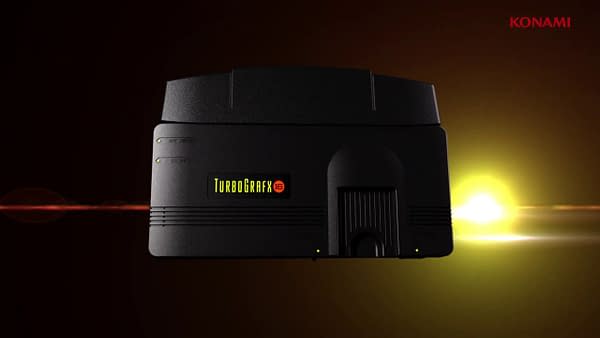 In addition to the catalogue of titles announced at E3, 20 more English TurboGrafx-16 titles have now been revealed. The TurboGrafx-16 mini line-up now includes:

AIR ZONK
ALIEN CRUSH
BLAZING LAZERS
BOMBERMAN '93
BONK'S REVENGE
CADASH
CHEW-MAN-FU
DUNGEON EXPLORER
J.J. & JEFF
LORDS OF THUNDER
MILITARY MADNESS
MOTO ROADER
NEUTOPIA
NEUTOPIA II
NEW ADVENTURE ISLAND
NINJASPIRIT
PARASOL STARS
POWER GOLF
PSYCHOSIS
R-TYPE
SOLDIER BLADE
SPACE HARRIER
VICTORY RUN
YS BOOK I & II

Additionally, 26 PC Engine titles in their original Japanese language will be playable on the Turbografx-16mini in their original format:

AKUMAJŌ DRACULA X CHI NO RONDO (Castlevania: Rondo of Blood)
ALDYNES
APPARE! GATEBALL
BOMBERMAN '94
BOMBERMAN PANIC BOMBER
CHO ANIKI
DAIMAKAIMURA (Ghouls 'N' Ghosts)
DUNGEON EXPLORER
FANTASY ZONE
GINGA FUKEI DENSETSU SAPPHIRE
GRADIUS (Nemesis)
GRADIUS II – GOFER NO YABŌ (Nemesis II)
JASEIKEN NECROMANCER
NECTARIS (Military Madness)
NEUTOPIA
NEUTOPIA II
NINJA RYUKENDEN (Ninja Gaiden)
PC-GENJIN (Bonk)
SALAMANDER
SNATCHER
STAR PARODIER (Fantasy Star Soldier)
SUPER DARIUS
SUPER MOMOTARŌ DENTETSU II
SUPER STAR SOLDIER
THE KUNG FU (China Warrior)
YS BOOK I & II
Enjoyed this article? Share it!