Konami Will Host A #StayHomeWithPES Tournament On Sunday
Today Konami announced their next esports effort during the coronavirus with the #StayHomeWithPES Tournament. This new competition will pit some of the biggest names in football/soccer against each other in eFootball PES 2020. This includes FC Barcelona striker Antoine Griezmann and Juventus' Miralem Pjanić. The competition will feature stars from 11 world-famous clubs, who will compete against each other in a tournament which will be broadcast on the official eFootball PES YouTube channel this Sunday, April 26th, starting at 12pm EST.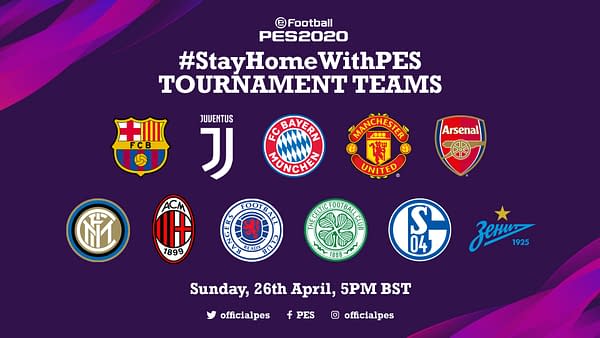 According to the brackets, Pjanić's first match will be in the Quarter Finals against the winner of the bout between Celtic forward Odsonne Edouard and FC Schalke's Nassim Boujellab. Another match the company wanted to highlight was the in the Quarter Finals, where it will be Inter's rising star Sebastiano Esposito with his first match against Scott McTominay, Manchester United's talented midfielder. You can see the full list of stars below and the complete schedule for Konami, along with a couple of quotes from participating athletes.
"I'm a huge PES fan," said Miralem Pjanić. "I'm excited to be part of this tournament and play the game on such a stage. It's going to be a lot of fun. For me anyway."

"I can't wait to put my PES skills to the test against some of my favourite players," said Scott McTominay. "I've got my eyes on a final against Antoine Griezmann. He might be a World Cup winner, but he won't be ready for me!"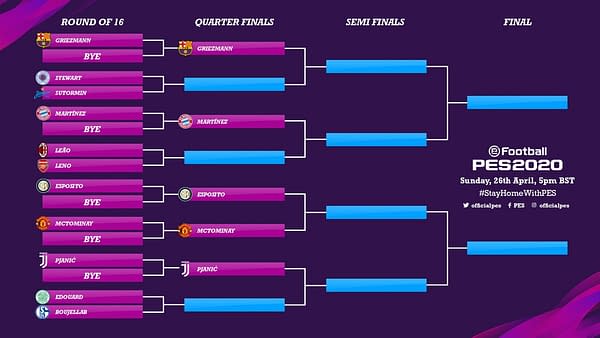 #StayHomeWithPES Tournament Participants:
FC Barcelona – Antoine Griezmann
Juventus – Miralem Pjanić
Manchester United – Scott McTominay
Arsenal – Bernd Leno
FC Bayern – Javi Martínez
FC Schalke 04 – Nassim Boujellab
AC Milan – Rafael Leão
Inter – Sebastiano Esposito
Celtic FC – Odsonne Edouard
Rangers FC – Greg Stewart
Zenit – Aleksei Sutormin