Konami Will Release Maximum Gold For Yu-Gi-Oh! TCG In October
Konami has announced another new set of cards will be coming to the Yu-Gi-Oh! Trading Card Game with Maximum Gold. This will be a brand new set, but that's kind of where the new part ends, as you may have guessed that there will be several cards getting a bit of a shine to them. The complete sets will have 52 Premium Gold Rares and 110 Gold-Letter Rares, giving these cards golden outlines and borders that will cleanly accentuate and enhance the art Duelists love. Each box will include four Maximum Gold packs with seven cards each. Which will break down to two Premium Gold Rares and five Gold-Letter Rares. Artwork for the set has yet to be released, but we do know they are aiming to release the set on October 9th, 2020 for $30 per box. You can read more about the set below.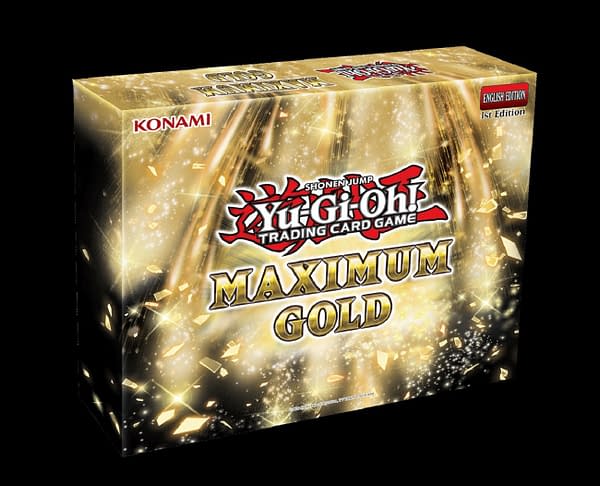 Premium Gold Rares are the ultimate evolution of the Yu-Gi-Oh Trading Card Game Gold Rares. Golden outlines and borders cleanly accentuate and enhance the art you love and add texture to the cards. Symbols like Level stars and Attribute icons shine like pools of precious molten metal. Premium Gold Rares inspire awe in the hearts of any Duelist who sees them, and Maximum Gold gives you the chance to add 52 of Dueling's finest cards to your Decks as beautiful Premium Gold Rares!

New Premium Gold technology isn't the only way Maximum Gold is going to make your cards look amazing. Six wildly popular monsters are getting brand-new variant artwork as well as the Premium Gold Rare treatment, including Droll & Lock Bird, Elemental HERO Stratos, and Apollousa, Bow of the Goddess! In addition, a wide variety of cards will return as Rares, but since this is Maximum Gold, they'll be appearing as Rares with gold lettering instead of the standard silver!