Octopath Traveler: Champions Of The Continent Adds Six-Month Update
You can now celebrate the six-month anniversary of Octopath Traveler: Champions Of The Continent with two of the game's original characters.
---
Square Enix has released a new six-month anniversary update for Octopath Traveler: Champions Of The Continent, which includes brand new content. The game will be celebrating in style by bringing in two characters from the original game as you'll be able to collect Ophilia and Olberic to be a part of your team. They also have some anniversary events, new modes, and a few other surprises for you to get involved with. We got the dev notes on the update for you here as the update is now live.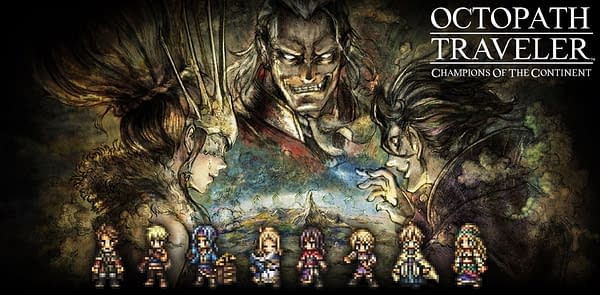 Main Story Update – Bestower of Fame: Chapter 2 Release: This new story update centers on Sazantos the Flamaguard and Rondo of the Knights Ardante in their quest to uncover the plot of Black Scarlet by the true mastermind behind it. Atlasdam, a new town, will also be introduced.
Original Octopath Traveler Characters Arrive – Ophilia and Olberic: Players have a chance to collect Ophilia and Olberic from the original Octopath Traveler from a limited-time banner, available now until February 8. Steps 2, 3, and 4 guarantees the player bonus Gold Guidestones, and on Step 5, players are guaranteed to obtain a 5★ character in slot 10, with a 50% chance of getting either Ophilia or Olberic.
Half-Anniversary Guidance Part 1: To celebrate the half-year anniversary, players can perform one free banner pull on the Half-Anniversary Guidance Part 1, now until February 14, which guarantees a 4★ or higher character in slot ten and an 88 Gold Guidestone bonus. The Half-Anniversary Guidance Part 2 banner will be available from February 1 through February 14, and players can also perform one free banner pull from this. Altogether, players can enjoy 20 free pulls between these two banners.
Half Anniversary Login Bonus: Players can obtain various bonuses by logging in daily, including a total of 600 rubies and more.
Ultimate Techniques: This new skill system enables players to use BP during battle to fill a special gauge. When the gauge becomes full, players can activate a powerful Ultimate Technique to turn the tide of battle.
Tower Of Trials: This new game mode offers players challenging content; by clearing tower floors and completing missions, players can earn various rewards.