Tencent and PUBG Corp. revealed a new collaboration this week as Yamaha has just put some new gear into PUBG Mobile. Available right now on both the App Store and Google Play versions, you can be zooming around the map in a brand new MWT-9. Just in case you're curious, no, there's no added bonuses or speed or major difference between this bike and others in the game. It's purely cosmetic to show off the bike, but primarily, it's been added to help celebrate Yamaha's 65th anniversary. You can read more about the collaboration below as you can speed around the map on this bike until July 22nd. That is, if you manage to stay on it long enough to enjoy it as it's basically a giant purple target that makes noise and moves.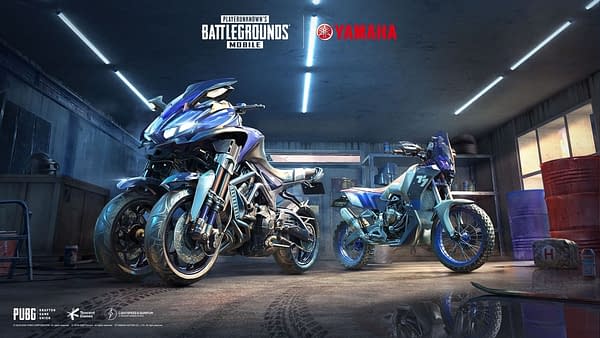 Beginning today and through Wednesday, July 22, players can ride on the exclusive Yamaha motorcycles as unlock two completely new in-game vehicle skins, MWT-9 and T7 Concept, with two colors to choose from. The MWT-9 is the concept model that embodies Yamaha Motor's LMW(Leaning Multi-Wheel) technology, enabling light, agile and sporty handling with a feeling of stability. This concept model leads to Yamaha's NIKEN production motorcycle, a three-wheels popular model providing confident control on various road conditions. Players can also experience the T7 Concept, the concept model of Yamaha's crowd favorite Ténéré 700 production model, ideal for exceptional off-road adventure riding. Besides the new vehicle skins, the collaboration brings ZENITH Graphic Helmet and CONTEND Jacket for riders to equip with as well.

In addition to the new rides, players can celebrate the collaboration by participating in a log-in event during the partnership period. Players who sign in to PUBG Mobile for three days before Wednesday, June 22 will earn a special Yamaha crate, which unlocks a seven-day trial for the MWT-9, ZENITH Graphic Helmet and CONTEND Jacket.
Enjoyed this article? Share it!