Bethesda Softworks sent out a notice about the next big update coming to Quake Champions, which includes new additions and a change in earning gear. The developers will be doing away with the current system of earning gear and change to a new free system and changes on how you earn with leveling-up, which will get you free and premium rewards, more cosmetics, and a more detailed list of what can be achieved. The goal of this is to make it easier for people to get stuff for playing and doing well in the game compared to how it worked before. There will still be the optional paid Battle Pass that unlocks more than just doing it the free way, but it's an optional feature.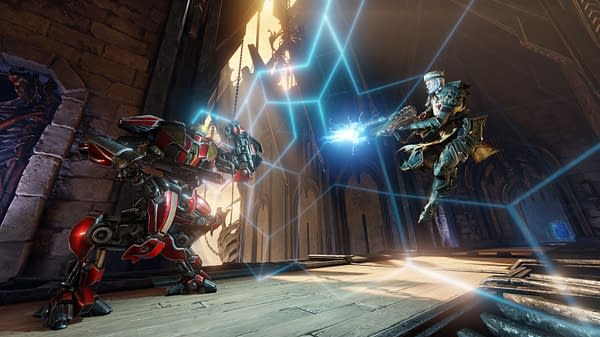 The next update will include new gear as well, and a brand new map for you to slaughter each other on, along with bringing back Capture The Flag mode. You can read more about the new system here, and some of the other updates below.
Champion Progression

In addition to progressing through the Battle Pass to earn rewards, players will level-up specific Champions by completing a variety of Challenges in the game. Accomplishing Weekly Challenges and leveling up in Battle Pass will both reward players with "Shards," a currency that can be spent to unlock items unique to each Champion. This system will allow players to earn even more rewards and – more importantly – to choose the Champion that their rewards are applied to.

Capture the Flag and New CTF Map

Capture the Flag is back! The community has been asking for it, and now the classic FPS mode returns with all of the signature Quake intensity. To help you along your way, a new map Citadel, specifically designed for CTF, will be included in the update. Keen-eyed Quake fans may recognize the inspirations for Citadel from Quake Live's "Stone Keep." Get ready to team up and use whatever means necessary to keep your flag firmly planted.
Enjoyed this article? Share it!