Review: Die Hard Dice Dark Iron and Gold Aquamarine Mythica Sets
We always love checking out what Die Hard Dice come up with when they release new sets, so we were intrigued when they told us about their new Mythica sets. The idea behind these dice is that if you're going to play a character that's more rooted in evil, these are the kind of dice you want to have as your side making decisions. So when that 20 comes around, people can see it in all of its horrible glory. But how do they look overall and how well do they roll? We got two sets sent to us to figure that out.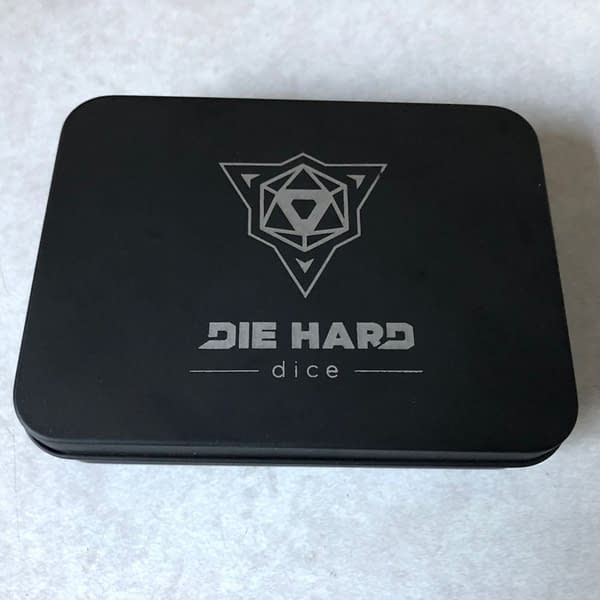 The first of the two is the Gold Aquamarine set. This is a brand new color the company has been experimenting with in their designs as it shimmers like it was coming from the sea. Kind of fitting with D&D launching a water-based set of adventures soon. You get the standard set of seven polyhedral dice with a D20, a D12, a D6, a D8, two D10's, and a D4.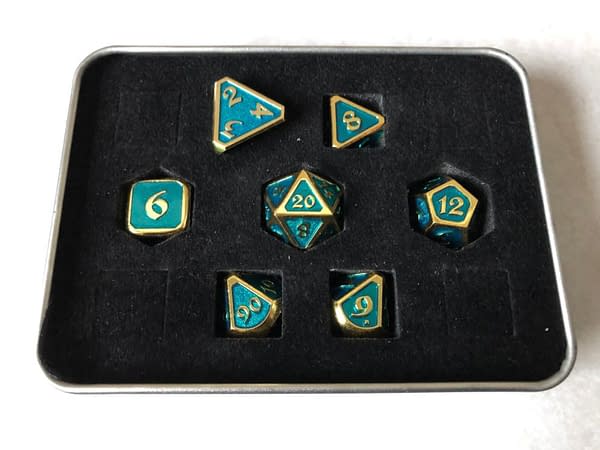 All of these dice look absolutely gorgeous as they're die-cast from a non-toxic Zinc alloy, hand-painted and then finished off with the gold trim and numbering to give it the look of something you might find in a treasure pile. The edges on these have changed a bit, as our previous Die Hard Dice review would show you that some of the tips on the D8, D4, and D10's were a little pointier than you might expect and you could actually poke yourself and draw blood if you tried. This set has the edges rounded out or smoothed over so when they roll or land, they don't damage the surface they're on. Granted, they're still metal dice, but at least they won't stick into the wood of the table.
The second set from the same series are these awesome Dark Iron dice. This is the kind of design that makes it feel like they were forged somewhere deep beneath a mountain in the hottest of lava pits, destined to make someone pay greatly if they ever came across you in combat. While the font on the numbers is the same as the set above, there's something more ominous about it looking like its been burned by dragon fire.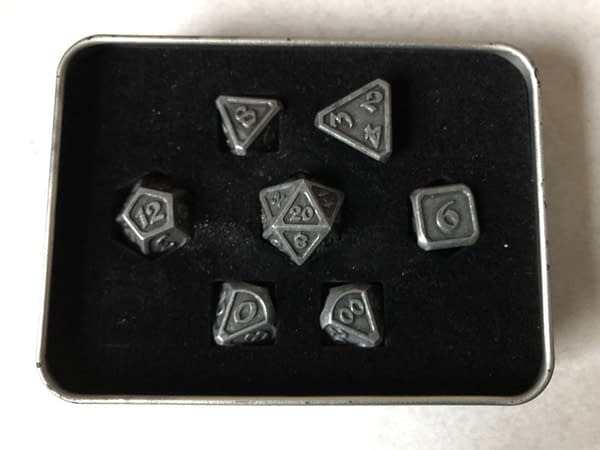 This set uses the same material as the one above, but the finish is electroplated with a darkened, wrought iron finish. This set actually feels heavier than the other set, even though there's genuinely no change in mass between the two. Maybe it's just the look and feel of them, but man, this set just screams Punishment DM or Demigod Dwarf looking for vengeance.
Both sets roll really well and have no set of favoritism or unbalanced proportions. Die Hard Dice went out of their way to make sure these sets carried weight both figuratively and in reality. After playing with them in a few games each I can't decide which is my favorite of the two, so I just assigned them to different characters in different games to match how I was feeling about that person. You're looking at a $50 price tag for each, which is a hefty price, but the real heft comes in the dice you're buying. Remember, these are customized metal dice that come in their own case to protect them, not plastic ones you can get at any hobby shop for a quarter. You're paying for the weight and the look together. If you love metal dice, these are right up your alley.