"Tetris 99" Will Host A "Pokémon Sword" & "Pokémon Shield" Maximus Cup
Nintendo announced this past week that they will be doing another Tetris 99 Maxiums Cup, this time with Pokémon Sword & Pokémon Shield. The event will kick off on November 7th at 11pm PDT, and run until November 11th at 10:59pm PDT. Like most of these events, you'll be playing to be one of the top 99 players in the world to earn special prizes. Only this time around they will be Pokémon themed. Here's more details about the event.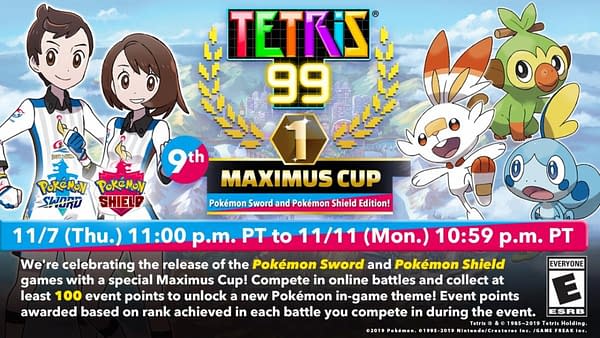 To compete, Nintendo Switch Online members* just need to play the Tetris 99 online mode during the event period. Players will earn event points based on their placement in each match. With enough dedication and match attempts during the event window, players of varied skill levels can earn their Pokémon-themed prize.

Once players have accumulated a total of 100 event points, a new theme will unlock, featuring background art, music and Tetrimino designs inspired by the upcoming Pokémon Sword and Pokémon Shield games. Take home your Tetris badge of honor before you start earning those Gym Badges.