Turok is Coming to Nintendo Switch This Month, The Sequel in April
One of the biggest titles to come out in the early days of the N64 was Turok, and now you'll be able to play two of the series' games on the Nintendo Switch. If you haven't tried this in your lifetime, the game puts you in the shoes of a warrior who has been thrust through time to an era with dinosaurs where an evil warlord is controlling the land. It's up to you to navigate your way through the danger and stop the warlord, all while trying to find a way back home.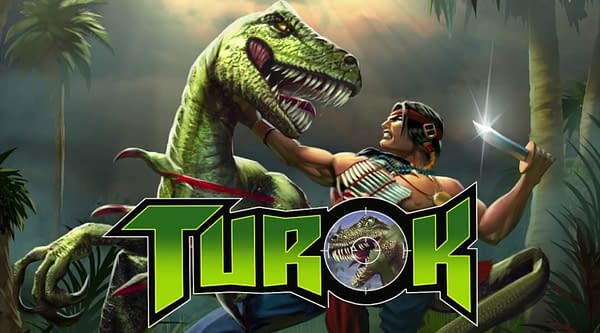 There's a more details description of the game below, but the big news that came out today about this re-release is that Nightdive Studios will be releasing the sequel as well. Turok 2: Seeds of Evil will be coming to the Nintendo Switch sometime in April, giving fans enough time to acquaint themselves with the first game and beat it before diving into the sequel. If you like hunting dinosaurs, your time has come!
A world where time has no meaning – and evil knows no bounds. Torn from a world long gone, the time traveling warrior Turok has found himself thrust into a savage land torn by conflict. An evil overlord known as 'The Campaigner' seeks to shred the fabric of time and rule the universe using an ancient artifact known as 'The Chronoscepter'. The Chronoscepter was shattered thousands of years ago in an effort to keep it from falling into evil hands. The Campaigner has constructed a massive focusing array which he plans to use to magnify and pervert the power of the Chronoscepter in order to shatter the barriers between the ages and rule the universe. Turok has vowed to find the eight pieces of the Chronoscepter spread throughout the Lost Land and put an end to The Campaigner's evil plot…