Ubisoft closed out their Ubisoft Forward presentation today by showing off the full cinematic trailer for Far Cry 6 with Giancarlo Esposito. We didn't learn a lot as it is early in the whole marketing plan they have for the game, but we did learn a few things. First, Esposito's co-star int he trailer is Anthony Gonzalez (Coco), the game's score was created by composer Pedro Bromfman (Narcos), and that opening sequence we got to see for the game was directed by Patrick Clair (Westworld, True Detective). So the comp[any is bringing out all the big guns they can to make this incarnation of the game feel much more like a cinematic narrative experience than just your standard shoot-and-conquer game we've seen before. The game is currently in development, but they have given a release date for February 18th, 2021 on Xbox Series X, Xbox One, PS5, PS4, Stadia, UPlay, and the Epic Games Store. You can read the brief plot synopsis from the devs below, along with all the videos they released today for the game, and info on the special editions that will be sold.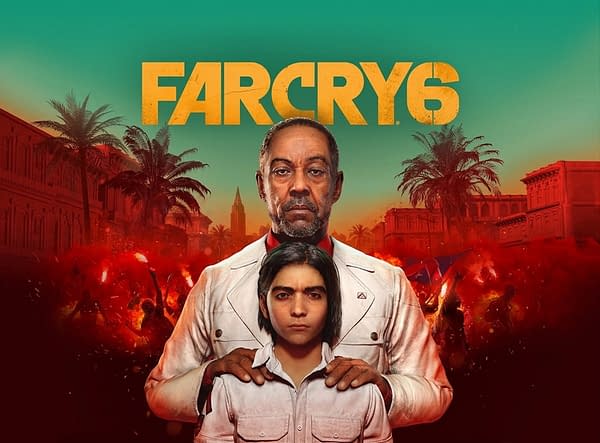 Developed by Ubisoft Toronto, Far Cry 6 plunges players into the heart of a modern-day guerrilla revolution set in Yara, a tropical paradise frozen in time. President Antón Castillo (Esposito) vows to restore his country to its former glory while grooming his son Diego (Gonzalez) to follow in his footsteps. Yet paradise has a price, and enriching his country means subjugating those who don't adhere to his vision. In this island nation in turmoil, players will experience the adrenaline and chaos of guerrilla combat as they are swept up in a revolutionary movement to take down a tyrant. Players will be able to play as either male or female Dani Rojas, a local Yaran swept up in a revolution against Antón Castillo. As Dani, players will become a guerrilla fighter and explore and unite an entire island nation, from lush jungles to Yara's capital city Esperanza. To succeed against the overwhelming power of Antón's regime, players will need to be resourceful as they employ an arsenal of unique new weapons, vehicles and Fangs For Hire like Chorizo, the cutest wiener dog on wheels.

"Powerful and complex antagonists are part of Far Cry's DNA, so right from the beginning, we knew we had to raise the bar for who these characters could be and how they would come to life," said Navid Khavari, Narrative Director, Ubisoft Toronto. "Working with such an amazing roster of talent, including the one and only Giancarlo Esposito, and seeing how they embody our antagonists as terrifying but also deeply complex human characters has been an unbelievable experience that I can't wait to share with our fans."
The Gold Edition will include the base game and the Season Pass.

The Ultimate Edition will include the base game, the Season Pass, and the Ultimate pack, which includes Jungle Expedition pack, the Croc Hunter pack, and the Vice pack.

The Collector's Edition will include the base game, Season Pass, the Ultimate pack, a high-end display model of "Tostador", the flamethrower from the game (7 parts to be assembled, length: 72cm), a "How to Assemble" one-pager artwork illustrated by famous artist Tobatron, a unique Collector's Case based on Tobatron's iconic art style, an exclusive Steelbook, a 64-page Artbook, a set of 10 stickers, a Chorizo keyring, a map and a selected Soundtrack of the Game.