"Vampire: The Masquerade – Coteries of New York" Shares New Mechanics
Draw Distance has released new mechanic information for their upcoming game Vampire: The Masquerade – Coteries of New York. The game was originally announced back in June shortly before E3, but we didn't see much else of it at that time. Now it appears the company is releasing more info before Gamescom 2019. It looks like you're going to get a very different experience in this game as they take this to the streets of Manhattan. Utilizing the storyline in 5th Edition from White Wolf Entertainment and Paradox Interactive. Here's a little more about the game as we wait to see when the next reveal will be. The game is set to be released in Q4 2019 for PC, Steam, and Nintendo Switch.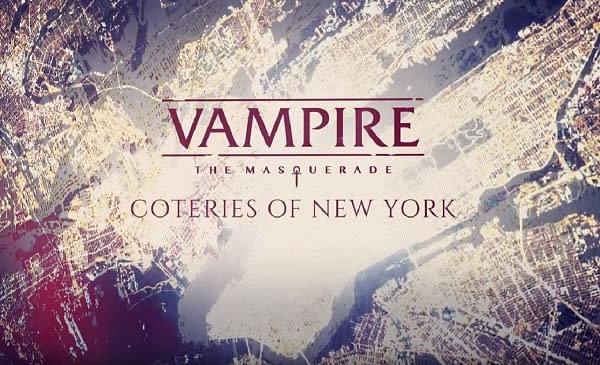 While the game is primarily text-driven and story oriented, several mechanics reflect the dark truths of being one of the Kindred. Beside Disciplines that can help with quests there are three such statistics are tracked by the game. All of these are modified by the player's choices in the game, and their gain or loss is indicated in the fiction in a subtle, but clear way.

Hunger is used to indicate the constant need for blood that vampires must deal with nightly. Characters have the opportunity to hunt for blood during quests. Ignoring this need leads to warnings in the game's fiction, and if disregarded for too long, to consequences that include succumbing to the Beast – a primal dark passenger all Vampires must try to keep at bay. This outburst is never pretty, and while it might satiate the protagonist for a while, it will almost certainly lead to a loss of Humanity, a decrease of their Masquerade rating… or both!

Humanity is a measure of how moral and rooted in humanistic principles the character is. This rating is used by the game to modify the results of choices in quests, offer additional story choices, or even lock certain choices out.

Finally, the Masquerade rating tracks how well the character blends in with mortal society. Staying inconspicuous and hidden from prying eyes is even more important for vampires than ever, due to the existence of the so-called Second Inquisition, a clandestine hunt for vampires concealed within global government agencies. Secrecy and not flaunting your supernatural powers in the sight of mortals is of utmost importance.