"Vampire: The Masquerade – Swansong" Announced At PDXCON
A fun announcement during PDXCON today as Big Bad Wolf Studio revealed the next VTM game, Vampire: The Masquerade – Swansong, is coming in 2021. Beyond it being a narrative RPG, the company didn't really say much else about it. The game was originally revealed back at Bigben Week 2019, but beyond learning it would operate on the fifth edition mechanics of VTM, we really got nothing else. We don't even know if this will tie into Bloodlines 2 or any other property in The World of Darkness games. Just a release year. But we did get a couple of quotes from the developers about the game.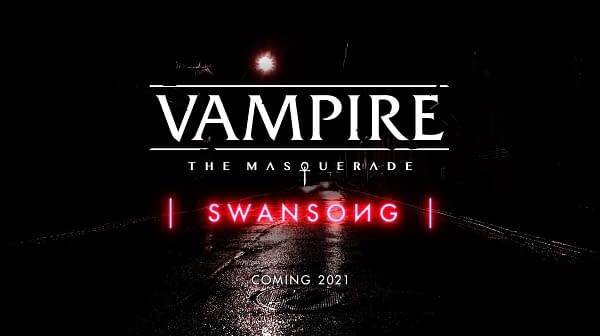 "At the studio, we're long-time and passionate fans of the tabletop role-playing game Vampire: The Masquerade. We have wanted to create a video game inspired by this universe for several years now. This project fits perfectly with Bigben's desire to expand its catalogue of narrative games. We are very happy to be unveiling it together," says Thomas Veauclin, Creative & Art Director at Big Bad Wolf.

"My past experience as an editor and author of role-playing games, and also as Editor-in-Chief of an RPG magazine, is proof of how important this project means to me personally," adds Benoit Clerc, Head of Publishing at Bigben." Just like me, many fans have been waiting a long time for a new adaptation of this cult game, which will be developed by one of the most talented studios of its generation."