What Is This Beautiful Mess? We Review 'Resident Evil: Revelations'
[rwp-review-recap id="0"]
When Resident Evil: Revelations popped onto the 3DS back in 2012, it was credited both for returning the series back to its roots and giving the series a new vision of what horror could be within their universe. There's no denying that this was one of the better titles to come out of the last decade for the franchise. Now Capcom has decided to touch it up a bit as they've re-released the game with some additional features onto PS4 and Xbox One. We dive into the stormy weather ahead and see what the new version has to offer.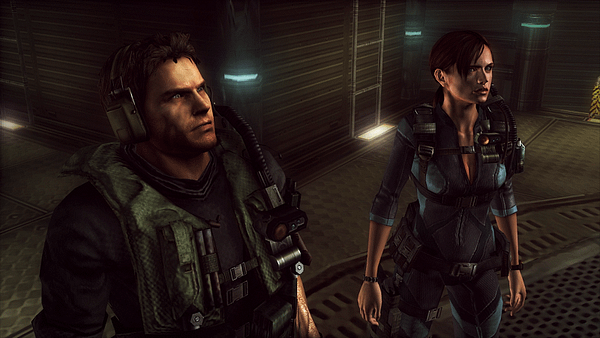 Now, for the purposes of this review, we're not going to get too much into the primary game itself, we're going to focus on what's new and what separates this version from the original. The plotline remains the same as the original with Jill Valentine in search of Chris Redfield who is trapped in the middle of the ocean on a cruise ship where, of course, mutated creature hijinks are taking place in the middle of a storm. The episodic format remains the same with a set of trophies and achievements that now mark your progress. You get a mix of survival-horror levels and action levels as you attempt to discover what's happening and get off the ship.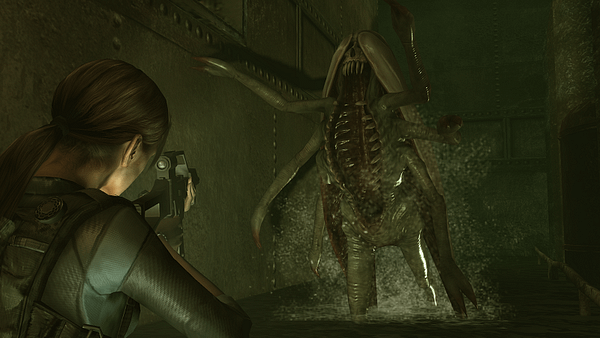 The survival stuff with Jill still has the creepy vibe to it, but the enhanced graphics make the ship feel truly terrifying, bring it up to Resident Evil 7 levels of intensity. Now when Jill walks down a hallway or into a gloomy area with poor lighting, it feels like there's more at stake. As for the action levels, they have greatly improved both appeal and fluidity. Before hand, they felt clunky and occasionally a waste of my time—now they have added style and don't hinder the gameplay as they did before. The fact that Capcom tool the time to fix up this Resident Evil game rather than just port it like the others does make it feel better.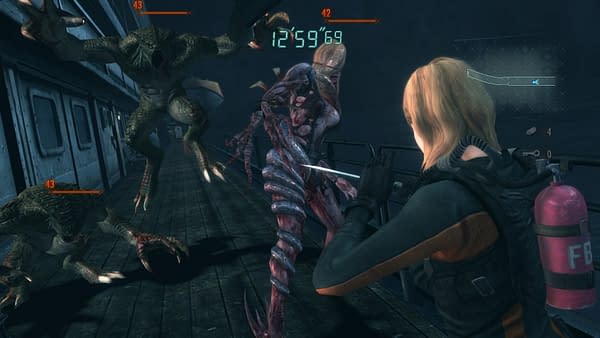 All of that being said, the overall game doesn't appear to be improved that much. When you look at this compared to the versions out on 360 and PS3, the changes are negligible. Yeah, it's in 1080, but when you look at the footage side-by-side, there isn't much change in the primary game and cutscenes. Like someone took their glasses off, cleaned them on their shirt, and put them back on. You think it's cleaner, but you didn't really improve much. Anyone with a 4K television playing this game will see this for certain.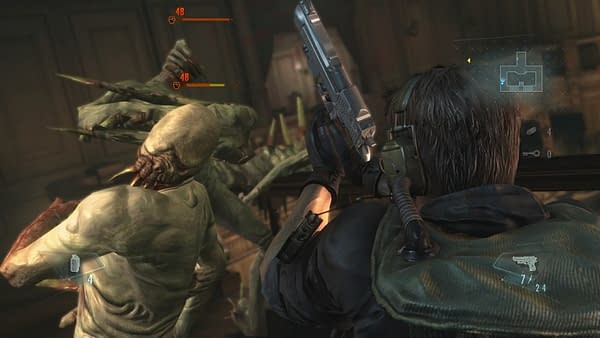 One of the new addition is Raid Mode, where you're essentially bombarded with enemy and enemy in a gauntlet of blood and gore trying to get through all of them. This is basically an expanded version of Raid Mode from the original sequel to this game, and it plays a lot better compared to that version. You do have to beat the campaign to get here so you're looking at anywhere between 8-12 hours of gameplay beforehand. That being said, don't be entirely shocked if it doesn't come off how you expect it to because this is essentially an expanded remake within an updated versions of a re-release. This version of Resident Evil: Revelations is kind of a hodgepodge. The story, even with the ludicrous elements that makes zero sense to the plot, is still fun. The adventure itself is still fun. The additional little things here and there help enhance it. Yet I feel like more could have been done to make this game better than what it is today. If the only thing that makes an old painting new is dusting off the frame and adding some highlights, did you really get a new painting? No. We got the same game as before, only with some added features and a slightly cleaner look. Capcom could have done a lot more with this game than just made a fancy port, and they only sort of delivered.
[rwp-review-ratings id="0"]
[rwp-review-form id="0"]