A bit of a late entry into last month's subscription boxes, but we finally received our copy of Loot Crate's clothing line of Loot Tees for the month of April. Last month we absolutely loved the Ready Player One design that came our way, so we're anxious to see how well this one holds up. This time around we got an amazing shirt for the cartoon show Adventure Time! This is a four-color neon print on gray featuring Finn holding what appears to be the Demon Blood Sword, while other words from the series stick out around an elongated version of Jake.
This is a pretty awesome design — you're given the two primary characters of the series along with a series of weapons that will evoke memories for anyone who watches the show. The way the colors flow works really well, but the ink used is a hair thicker than you would see on most shirts, simply because you're layering four colors on each other. But they got some really great detail going on in the design, which shows up most vividly in the swords.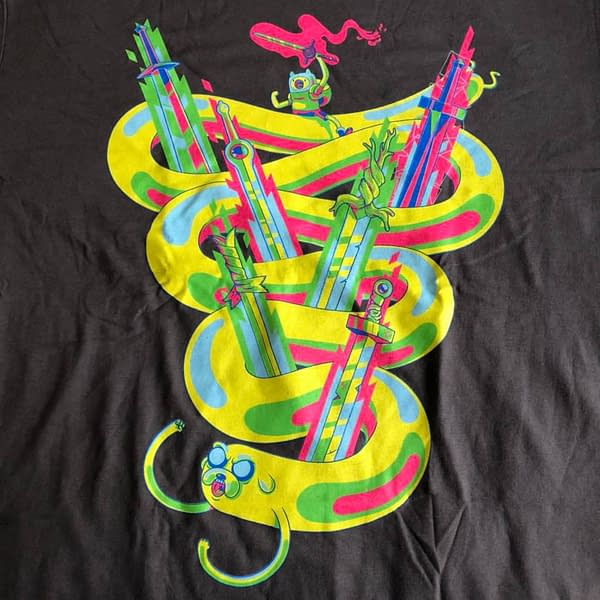 Overall, I really loved this shirt. The material isn't too thick or thin, the ink job is well designed and doesn't bleed or tear, and the characters are well represented for what they wanted to convey. This is a winner for me at least, but I'm also a fan of the show, so I was happy to have it. So far, the shirts we've been getting from Loot Tees have been killing it — let's hope we get the May box sooner than later.
Enjoyed this article? Share it!