A Synopsis for Live-Action 'Akira' Appears, Production Listed as "Active"
The day after April Fools is a terrible choice to make big announcements about long-rumored productions, but that's exactly what happened this year with the much-maligned live-action Akira film.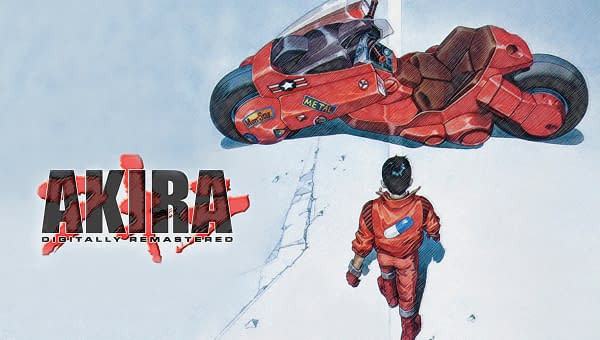 Probably the best evidence we've seen of producer Leonardo DiCaprio's passion project in years, it was revealed on April 2nd that the California Film Commission granting $18.5 million for the production to film in the Golden State.
Just today via Production Weekly, there was a post for the production, listing Akira as active, and listing the writer (Marco Ramirez), director (Taika Waititi), and a synopsis:
When a young man's telekinesis is discovered by the military, he is taken in to be turned into a super weapon and his brother nuts race to save him before Manhattan is destroyed by his powers. Kaneda is a bar owner in Neo-Manhattan who is stunned when his brother Tetsuo is abducted by Government agents lead by the Colonel. Desperate to get his brother back, Kaneda agrees to join Ky Reed and her underground movement who are intent on revealing to the world what truly happened to New York City 30 years ago when it was destroyed. Kaneda believes their theories to be ludicrous, but after facing his brother again is shocked when he displays telekinetic powers. Ky believes Tetsuo is headed to release a young boy. Akira, who has taken control of Tetsuo's mind, Kaneda clashes with the Colonel's troops on his way to stop Tetsuo from releasing Akira, but arrives too late. Akira soon emerges from his prison courtesy of Tetsuo as Kaneda races to save his brother before Akira once again destroys Manhattan island as he did thirty years ago.
The full listing is behind a paywall, but you can just barely make out the synopsis in this photo.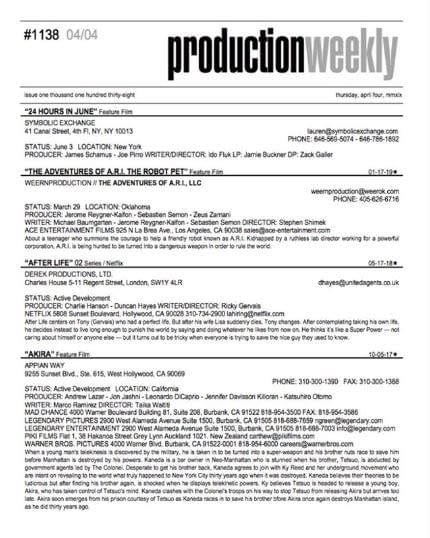 DiCaprio's Appian Way will be producing for Legendary Pictures and Warner Bros. Pictures, and so far there are no casting rumblings yet. We'll let you know what we hear.
---
---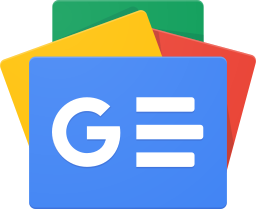 Stay up-to-date and support the site by following Bleeding Cool on Google News today!