Not Expecting 'Aladdin' to Be Favorite Film [Shell-Shocked Review]
It's not an exaggeration to say that my expectations going in to see the new live-action Aladdin movie from Disney were on the low side. This is a remake of a kid's cartoon movie that was only so-so in my opinion. It is directed by someone who hasn't made an enjoyable film in a decade. With a big-name star reprising a performance from a much-loved and respected comedian that was probably the only good thing about the original – and this star hadn't made a really good movie in two decades. But my youngest daughter wanted to see the movie, and daddy had press access, so off we went last weekend.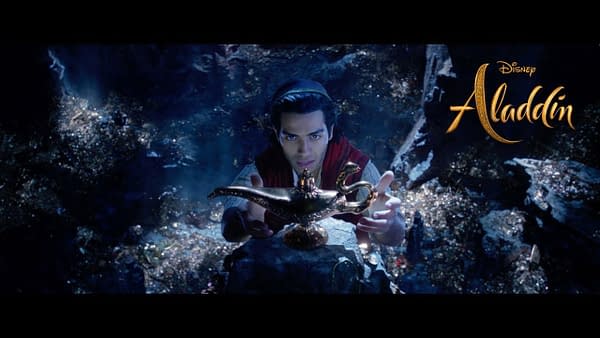 [rwp_box_recap id="0"]
Which is how I got to see the best movie I have seen this year. Probably last year too – The Favorite wasn't this good. And I found my prejudices have shaken to their core. I was the critic in Ratatouille taking his first bite of the rat's dish.
Guy Ritchie's laziness is gone. Will Smith was ridiculously entertaining, engaging and his image is wonderfully manipulated for comic effect – that blue from the trailer knocked back into lilac and done away with for most of the movie. He channels Robin Williams but makes the role his own, the fresh genie of blue air.
And Naomi Scott as Princess Jasmine is the freshest, most engaging face I have seen on screen for years. She is a true cinematic star who somehow manages to capture a cartoony cuteness of the original drawings with each raised eyebrow or touch of the lips, and giving us a very 21st century Princess Jasmine, the original narrative reworked again, with the standout new song "Speechless" very much inspired by Hamilton's "Helpless" and similarly being used to not only get genuine chills when listening to it, but being used to turn the narrative on a sixpence and head off in a new direction that it totally earns. And so much of that is down to the sincerity in which Scott sells this performance.
My niggles will be minor and more structural – transferring the tale of Aladdin from China to Arabia, losing the Genie of the Ring, and dropping any of the British pantomime elaborations that kept the story alive for so long, were all creative decisions made by the Disney original version of the movie. There's also too much of the sugar-sweetness initially in trying to make Mena Massoud's Aladdin a 'good guy' rather than being the street thief he signs about, epitomized by retaining the justifiable refrain 'gotta eat to live, gotta steal to eat'. The narrative bends over backwards far more than the cartoon did to keep Aladdin on the side of the angels, rather than pure self-survival, he is sacrificing for others, and for Jasmine, then taking the blame. But it's a minor early quibble that is superseded by all that comes after, as he has his own 'great responsibility' moments when it comes to trying to twist the narrative in his own directions, and a more rounded character in the chief of the guards helps to rectify initial concerns.
Because more than anything, the film works as a whole, we get a sense of how the city works at every level, how it keeps going, growing and surviving, with intricate political moves at the top, with a police state keeping everyone in line – but surviving. The place works, just about, and the threat posed by Marwan Kenzari's Jafar is not just to the main cast but to the city as a whole. And it's here that the live action succeeds where the cartoon failed in creating a living, breathing city – just one with a cave of secrets and treasures across the desert that could bring it all crashing down. And the biggest issues with the original Disney version for a modern generation, are tackled head-on with a new narrative for Jasmine that is not only more in keeping with modern narrative sensibilities but also makes for a much better story too. It just makes more sense this way, and now seems alien that it could have gone any other way.
It's a film about taking the opportunities that come your way, even if you thought you were in a situation without any hope. But unlike so many of these stories, it doesn't also condemn those unable to take advantage of that situation. Too many times in such stories, those who don't take the path are blamed for that, here the characters know just how lucky they are, but also how whatever their situation is, they are trapped into making the same mistakes. It's a film about luck, but manages not to push down on those not lucky enough. Which also helps make the film far more palatable too.
The biggest waste? Probably Alan Tudyk as the parrot Iago, given that the character sounds just like an actual parrot, rather than utilizing any of his own speech patterns and quirks present in Gilbert Gottfried's version. Tudyk basically did too good a job. And the magic carpet is basically a replication of the hand-drawn cartoon in CG – but doesn't bring anything new, or replicate the original's personality quite as successfully.
But overall, I was blown away. Disney has had a mixed bag in its attempts to take its classic hand-drawn cartoons and turn them into live action – or CG-simulated live action. Some have been more successful than others. But by far this Aladdin is the most successful, outstripping everything from 101 Dalmatians to Dumbo. The Lion King hasn't got a chance against this creation – and I never saw it coming. Especially not from the trailer below which does a terrible job in selling what makes this film so great.
I hope you don't make my mistake. Or if you do, I hope you have a similarly bloody-minded family member to help you rectify it.
Oh and no post-credit or mid-credit scenes. The film is the film is the film.
Disney's Aladdin opens today in the UK and on Thursday May 23rd in the USA.
[rwp_box id="0"]
[rwp_reviewer_rating_stars id="0"]
​