An Oral History of 'Avengers: Infinity War', 'Endgame' From The Russo Brothers
We're SO CLOSE to the 22nd Marvel Studios film hitting theaters, and the directorial pair behind Avengers: Infinity War and Avengers: Endgame The Russo Brothers have a few things to say about the history of both films.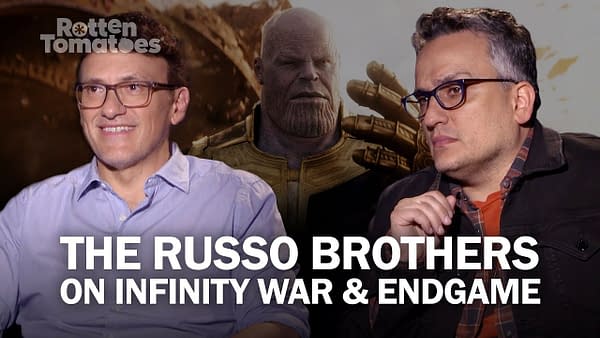 In a recent video chat with Rotten Tomatoes, Joe and Anthony Russo tackle a few topics regarding their superhero team up films, INCLUDING the recent Endgame "footage leak" reported across the internet.
"Maybe it's all fake. Maybe there's not a real frame in that whole trailer," Anthony jokes. OR IS IT A JOKE?! He's already revealed there is a moment in the trailer that's maybe NOT in the film (the Tony, Steve "do you trust me" moment, btw).
The Russo Brothers Joe and Anthony return to the MCU to direct Avengers:Endgame, which stars Robert Downey Jr. (Iron Man), Chris Evans (Captain America), Josh Brolin (Thanos), Scarlett Johansson (Black Widow), Chris Hemsworth (Thor), Jeremy Renner (Hawkeye), Brie Larson (Captain Marvel), Danai Gurira (Okoye), Paul Rudd (Ant-Man), Karen Gillan (Nebula), Mark Ruffalo (Hulk),Don Cheadle (War Machine), Tessa Thompson (Valkyrie), and Bradley Cooper (Rocket Raccoon).
Avengers: Endgame hits theaters on April 26th 2019.