Annabelle: Creation Review – One Of The Best Horror Franchise Sequels In Years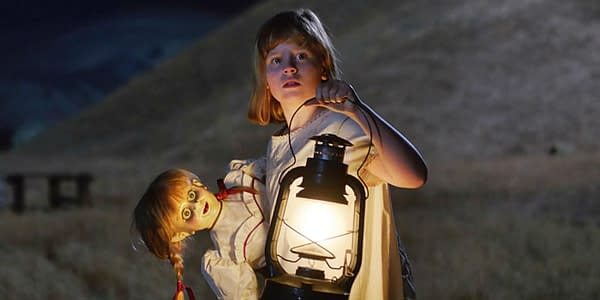 It's rare enough to actually come across a good horror film these days. Get Out and It Follows being some of the recent exceptions to the generally lackluster slashers and found-footage fests that have become the norm. Even more rare is a horror sequel that's still effective, and Annabelle: Creation, being the fourth installment in The Conjuring franchise genuinely is one of those exceptions.
Set as a prequel to the earlier films, the plot isn't exactly deep: it's about a loving family made of of custom doll maker and father Samuel Mullins (Anthony LaPaglia), the mother is Esther (Miranda Otto), and young daughter Annabelle "Bee" (Samara Lee). They're having a quiet life in the country with Sam being successful selling his dolls, when on the way home from church they get a flat tire and while changing it, Annabelle runs out in front of another car and is killed.
We jump to twelve years in the future, and Sam and Esther have never really recovered from the loss. Esther is bedridden and hasn't walked about under her own power in years. In an attempt to bring some life into the old farmhouse, Sam invites a group of orphan girls and a nun into the house for it to be used as a group home. Soon a force in the house reaches out to the one of the girls, causing her to investigate and uncover the doll that Sam was working on at the beginning of the film, and Annabelle's spirit has apparently connected itself to the doll and doesn't seem to be interested in houseguests.
It's not an original plot, the idea of possessed dolls being inhabited by a deceased child has been done any number of times before. What makes Annabelle: Creation atypically effective is director David F. Sandberg, who had previously done very well at the box office and with reviews in last year's Lights Out. He continues to show a deft hand of wasting no time with subtlety — things are moving in the corners of your eye from the very moment that the girls arrive in their new home. There's not a vast amount of gore or blood, which is not a bad thing — he saves it for when it'll count most; until then, he keeps the audience on the edge of their seats trying to sort out where things are going to hop out from next. Sandberg sets a simple image of an unused scarecrow leaning against a wall be something the just oozes dread effectively, even when it doesn't do anything but sit there, but you know you aren't going to trust what happens the moment you turn away from it.
Our screening was held at one of the new Dolby Theaters, this particular one at the AMC Metreon in San Francisco, and it has to be said that the screen quality and its ability to project an image with deeper blacks than we've seen on a theater screen before makes for peering into a dark closet feel like one is falling into nothingness. When two pinprick eye-points appear in that blackness, it's far more effective than it really has any right to be. The increased resolution of the image on the Dolby screen actually increases the ISO noise to the level that it actually has the impression of an older film stock (like a film one might have seen in the late '70s or early '80s). This isn't a bad thing, though; it goes right along with the rustic, country setting. For Creation, the Dolby sound system wasn't really featured, though I know I'm now itching to see a sci-fi film on that screen, and soon.
If horror is your genre, Annabelle: Creation is a solid summer watch. Catch it while the theater still has a good-sized crowd, that way when you gasp — or perhaps even scream — you can blame the person behind you.
Warning: The trailer below, while good, also gives away a great deal of the happenings. We would suggest if you're going to go — hold off on the trailer. Only watch it if you're on the fence and need another nudge.