Just a little while ago, the 22nd Marvel Studios film Avengers: Endgame had it's official world premiere in Los Angeles. The photos from the purple carpet were, as always, amazing, and we got to play one of our favorite games- how many cosplayers do we know on the live stream.
Here's a few highlights courtesy of Marvel Studios:
We thought that MAYBE you'd also like to know what the usual personalities are saying about the film, post-screening. We'll do our best to make sure these are NON-SPOILER tweets, but we cannot vouch for the comments that'll be on those threads if you click to read through them. The official press embargo for the film does lift at 3pm (PST) on Tuesday, April 23rd just FYI.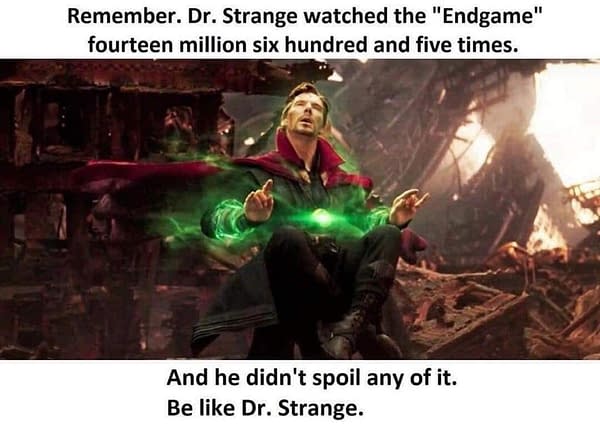 Ryan Parker of The Hollywood Reporter says:
It's incredible. I'm speechless. #endgame

— Ryan Parker (@TheRyanParker) April 23, 2019
Peter Scirtetta (SlashFilm) says:
Imagine the best possible version of #AvengersEndgame and somehow the film still surpasses all expectations. I cried 5-6 times. It's the most emotional, most epic, MCU film. A tribute to ten years of this universe and holy shit the great fan service in this movie. Soooo good.

— Peter Sciretta (@slashfilm) April 23, 2019
Collider's EIC Steven Weintrab said:
Just got out of the world premiere of #AvengersEndgame. Have a lot of feels. pic.twitter.com/Ayv3eOfNpP

— Steven Weintraub (@colliderfrosty) April 23, 2019
Don't know how any @MarvelStudios fan walks out of #AvengersEndgame disappointed. Movie is loaded with incredible set pieces and tons of small character moments that leave you wanting more. An epic conclusion to 10 years of Marvel movies. Thank you to everyone that worked on MCU. pic.twitter.com/HbXkwuYL5y

— Steven Weintraub (@colliderfrosty) April 23, 2019
Erik Davis of Fandango said:
#AvengersEndgame is a masterful epic – a true culmination of 22 films that not only concludes the story, but expands upon it. You'll learn more about the other movies while this one unfolds. If Infinity War is the brawn, Endgame is the brains. And wow, what an ending! pic.twitter.com/94ttBUQKJ0

— Erik Davis (@ErikDavis) April 23, 2019
Do not go in expecting Infinity War part two. The two films are so different, yet compliment each other in all the best ways. In terms of which MCU movie to watch beforehand… honestly, all of them. What an experience – what an accomplishment#AvengersEndgame

— Erik Davis (@ErikDavis) April 23, 2019
Brandon Davis of ComicBook.com said:
#AvengersEndgame is an astonishing, amazing film. I've never seen anything like it. This movie is everything I wanted to be and SO much more. Amazing.

— BD (@BrandonDavisBD) April 23, 2019
While watching #AvengersEndgame, I laughed so loud, I clapped with so much force, and I cried so hard. The movie exceeds every expectation and is the perfect culmination of the entire Marvel Cinematic Universe.

— BD (@BrandonDavisBD) April 23, 2019
I just can't remember a cinematic experience like the one I just had with #AvengersEndgame. Simply blown away. I feel like that movie was made for every Marvel fan, everywhere.

— BD (@BrandonDavisBD) April 23, 2019
No confirmations on possible mid or post credit scenes as BD says the credits portion was cut in order to allow the Endgame cast to speak.
For those asking, I don't know if #AvengersEndgame has a post-credits scene. They cut the credits for a cast speech, so there may be one for release. Stay seated.

— BD (@BrandonDavisBD) April 23, 2019

CinemaBlend's Eric Eisenberg said:
This can't be understated: #AvengersEndgame is everything you want it to be and more. I am absolutely floored. A perfect reflection on the last 11 years that pays off everything in the best way possible. Without question my new favorite Marvel Cinematic Universe film. Stunned. pic.twitter.com/5LvFw9UEBQ

— Eric Eisenberg (@eeisenberg) April 23, 2019
Germain Lussier of io9 and Gizmodo said:
Wow. #AvengersEndgame is staggering. It's surprising in ways I never saw coming and satisfying in ways I didn't realize I needed. It's kind of the ultimate gift to fans of the MCU. It's very long and has a few hiccups, but is everything you're hoping for and more. pic.twitter.com/RO97kw9fs5

— Germain Lussier (@GermainLussier) April 23, 2019
All I'm going to say about @Avengers #EndGame is that I am an emotional wreck and can't stop crying

— Maude Garrett (@maudegarrett) April 23, 2019
#AvengerEndgame is an immensely satisfying payoff, not just to Infinity War but to all the films that came before. This is why the MCU. (And I say this as someone who was not especially enamored of Infinity War, FWIW.) ♥️💙💜

— Angie J. Han (@ajhan) April 23, 2019
So I just saw #AvengersEndgame, and you guys aren't ready for shiiiiit. All the theorizing didn't prepare you for this. I cried a lot, I flung my hands in the air and screamed out loud. It's incredible. #EndgamePremiereLA #Avengers #Endgame

— Beatrice Verhoeven (@bverhoev) April 23, 2019
INCREDIBLE!! #AVENGERS #ENDGAME brings the entire MCU to a rousing, exciting, deeply moving & wholly satisfying conclusion! It's a *BEAUTIFUL* film! Fun, smart, clever, BRILLIANT! Perfect blend of action, heart & humor! This is as good as it gets! Greatest superhero movie EVER! pic.twitter.com/dMeLtvO7Gy

— Scott Mantz (@MovieMantz) April 23, 2019
Judy Stephens of Marvel said:
I HAVE NEVER HAD SUCH REACTIONS TO A FILM BEFOFE. GET READY FOR EMOTIONS. #AvengerEndgame

— Judy the Cosplay Wrangler! 🌈🦄⭐️ (@OMG_Dj_Judy) April 23, 2019
So, #AvengersEndgame hits the required beats, with plenty of fan service (most of it earned) and plenty of wit. It doesn't make a ton of sense (and the action is a comedown) but it's unquestionably fun.

— Scott Mendelson (@ScottMendelson) April 23, 2019
***
The Russo Brothers Joe and Anthony return to the MCU to direct Avengers:Endgame, which stars Robert Downey Jr. (Iron Man), Chris Evans (Captain America), Josh Brolin (Thanos), Scarlett Johansson (Black Widow), Chris Hemsworth (Thor), Jeremy Renner (Hawkeye), Brie Larson (Captain Marvel), Danai Gurira (Okoye), Paul Rudd (Ant-Man), Karen Gillan (Nebula), Mark Ruffalo (Hulk),Don Cheadle (War Machine), Tessa Thompson (Valkyrie), and Bradley Cooper (Rocket Raccoon).
Avengers: Endgame hits theaters on April 26th, 2019.
Enjoyed this article? Share it!