'Avengers: Endgame' Just Screened in Los Angeles, Early Reactions Hitting
Just a little while ago, the 22nd Marvel Studios film Avengers: Endgame had it's official world premiere in Los Angeles. The photos from the purple carpet were, as always, amazing, and we got to play one of our favorite games- how many cosplayers do we know on the live stream.
Here's a few highlights courtesy of Marvel Studios:
We thought that MAYBE you'd also like to know what the usual personalities are saying about the film, post-screening. We'll do our best to make sure these are NON-SPOILER tweets, but we cannot vouch for the comments that'll be on those threads if you click to read through them. The official press embargo for the film does lift at 3pm (PST) on Tuesday, April 23rd just FYI.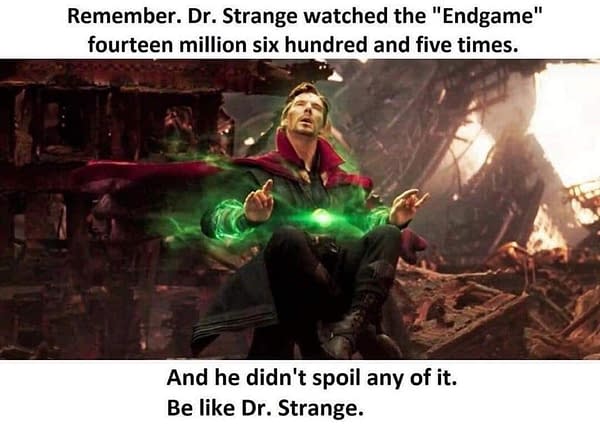 Ryan Parker of The Hollywood Reporter says:
Peter Scirtetta (SlashFilm) says:
Collider's EIC Steven Weintrab said:
Erik Davis of Fandango said:
Brandon Davis of ComicBook.com said:
No confirmations on possible mid or post credit scenes as BD says the credits portion was cut in order to allow the Endgame cast to speak.

CinemaBlend's Eric Eisenberg said:
Germain Lussier of io9 and Gizmodo said:
Judy Stephens of Marvel said:
***
The Russo Brothers Joe and Anthony return to the MCU to direct Avengers:Endgame, which stars Robert Downey Jr. (Iron Man), Chris Evans (Captain America), Josh Brolin (Thanos), Scarlett Johansson (Black Widow), Chris Hemsworth (Thor), Jeremy Renner (Hawkeye), Brie Larson (Captain Marvel), Danai Gurira (Okoye), Paul Rudd (Ant-Man), Karen Gillan (Nebula), Mark Ruffalo (Hulk),Don Cheadle (War Machine), Tessa Thompson (Valkyrie), and Bradley Cooper (Rocket Raccoon).
Avengers: Endgame hits theaters on April 26th, 2019.