Chatting with 'Avengers: Infinity War' Exec Producer Trinh Tran
Bleeding Cool was lucky enough to chat recently with Avengers: Infinity War Executive Producer Trinh Tran. We asked her what some of her biggest challenges were on the MCU spectacular, and she was kind enough to offer her thoughts on it (and life):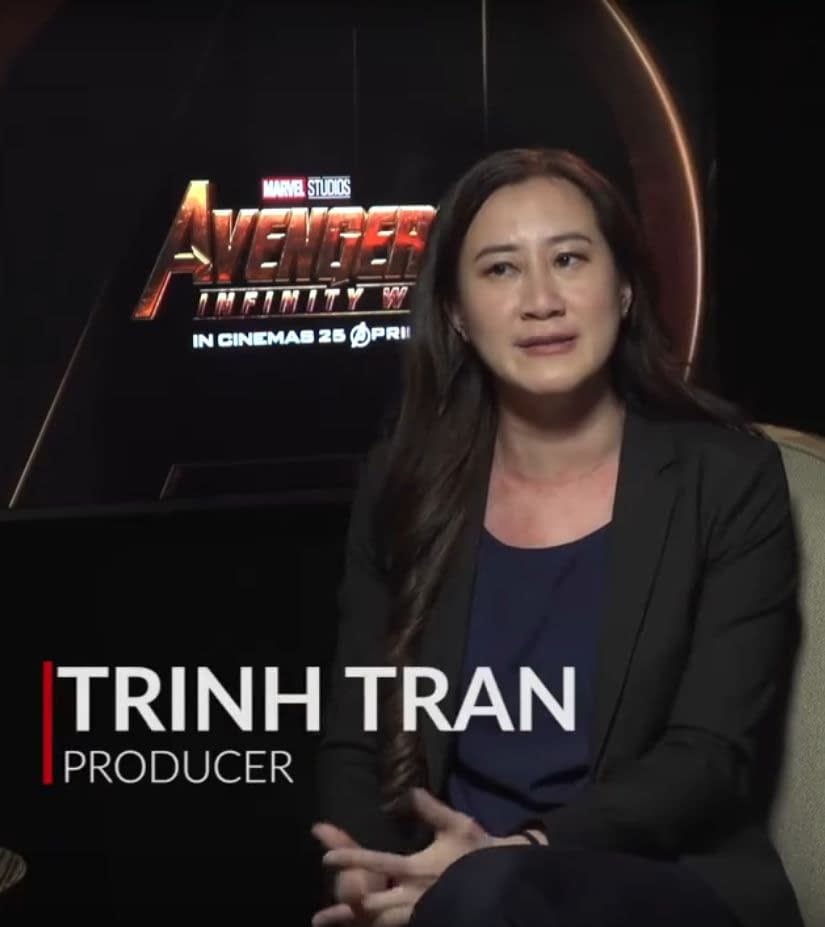 DHK: Logistically what was the greatest challenge you faced for Avengers: Infinity War?
Trinh Tran: Our greatest challenge was gathering all of our talent together to get into one film. We pretty much took almost everyone in Hollywood.
DHK: Is there one thing that was filmed that didn't make the final cut that you're glad audiences will get to see in the Home Entertainment release?
Tran: "The Guardians Get Their Groove Back" deleted scene with the Guardians arguing over losing Gamora after their encounter with Thanos on Knowhere. It's so much fun, and we can't get enough of them!
DHK: What's one tangible thing women (and particularly women of color) can do to support each other in front of and behind the camera?
Tran: I think it really boils down to getting more women and women of color involved in all sorts of roles. The more diverse we can be in front and behind the camera, the more diverse and unique our stories. Perspective is a key ingredient to any great story. We continue to strive doing that in our MCU films. That's why Black Widow, Scarlet Witch, and Okoye's fight in the trench is one of the best fights in Avengers: Infinity War. I'm looking forward to see more moments like that in the future.
DHK: How do you define success now, and has that definition changed from when you were younger?
Tran: Success is about the journey and not really about the outcome. That's the biggest difference between then and now. My experience working on these stories with all these passionate people is a journey I never take for granted.
DHK: How do you deal with creative differences at Marvel? What's the process like?
Tran: What's really unique about our core group of creatives is that we have spent a lot of time together in meetings hashing out stories. We know each other. We all are working toward finding the best possible story, and any differences we have along the way only go towards improving the overall product.
DHK: What's something you learned from Captain America: Civil War that you applied to Avengers: Infinity War?
Tran: Here is the interesting thing – on Captain America: Civil War we had 12 main characters. This was just a warm-up to Avengers: Infinity War. It allowed me to learn how to deal with talent and offered some valuable lessons on how to tackle that many characters in one cohesive story. Every character needs their time to shine. You only get around two hours, so I'm quite proud that we were able to carve out those moments and give our characters the development they deserve.
DHK: If you could go back to the start of production and give yourself one piece of advice, what would it be?
Tran: Don't worry, we're going to be okay. ;)
DHK: Who are some of the female role models in your life?
Tran: My mom. She is a very strong and independent women. She instilled the same in me from an early age. I owe where I am today to her.
DHK: Growing up, who was your favorite fictional hero or heroine? (Not necessarily a superhero, just a protagonist.)
Tran: Rocky. He's an underdog who works hard, embraces his passion, and ultimately succeeds despite all odds.
DHK: What's one thing you wish you had more time for?
Tran: Sleep.
DHK: What frustrates you?
Tran: Right now, traffic in LA. I've been here most my life and I still can't get use to it.
DHK: How do you relax?
Tran: I honestly love sitting back at home and enjoying a movie.
*****
Thank you to Trinh Tran for answering our questions! Avengers: Infinity War is out now on Digital, and will be available on Blu-ray and DVD on August 14th 2018.