Remember how the Russo Brothers and Marvel Studios had that big giant #ThanosDemandsYourSilence campaign in an effort to prevent spoilers being shared before everyone could see Avengers: Infinity War? Looks like 20th Century FOX's Deadpool 2 is doing the same. Kind of.
This morning Ryan Reynolds shared a similar letter, addressed to the "greatest fans in the universe":
We have embarked on the Deadpool 2: This is Kind of Your Guys' Fault" World Tour. Almost everyone involved in the film has given Maximum Effort the past two years, maintaining the highest level of super secrets, like how David Blaine catches bullets in his mouth. And the secret blend of 11 herbs and spices in Colonel Sanders' delicious moustache.

Only a handful of people know the film's true plot. One of them is not Ryan Reynolds. We're talking that when you see Deadpool 2, you don't say a fucking word about the fun shit in the movie. Cause it'd be super lame to spoil the fact that Deadpool dies in this one. Kidding. Not kidding, Kidding?"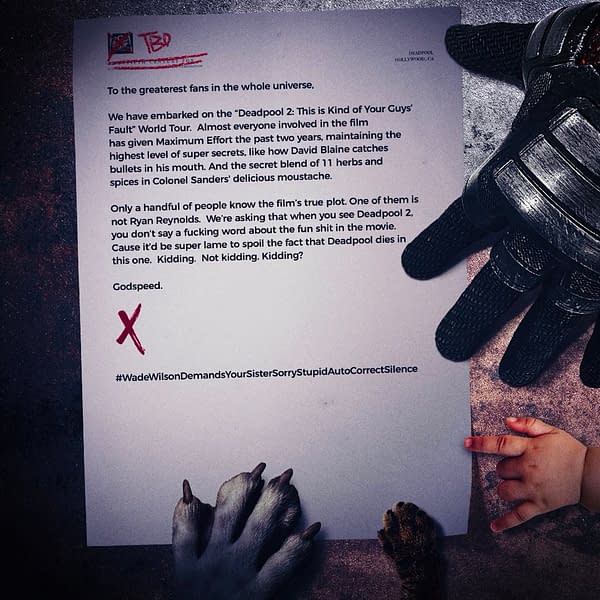 The note is signed at the bottom with a giant red X, and has a hashtag at the bottom that reads #WadeWilsomDemandsYourSisterSorryStupidAutoCorrectSilence.
We also kind of love the hands featured around the note, a humorous take on the Thanos Infinity Gauntlet used in the MCU version of the spoiler-free request.
Deadpool 2 hits theaters on May 18th, 2018.
Enjoyed this article? Share it!