Disney just debuted a new trailer for their upcoming holiday movie The Nutcracker and the Four Realms. The trailer shows off a ton of new footage, and with the trailer Disney released a shiny new poster on Twitter: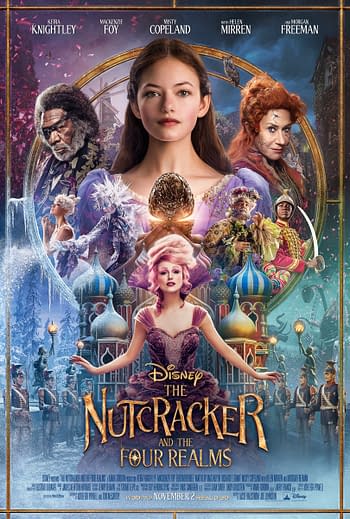 The star, Mackenzie Foy, posted a special message thanking everyone for their comments on the trailer and that she can't wait for everyone to see the movie.
A special message from our Clara, @MackenzieFoy 🗝🐀✨❄️ #DisneysNutcracker pic.twitter.com/WV0gTNVqwv

— Walt Disney Studios (@DisneyStudios) August 8, 2018
There has been a lot of talk about whether or not there is an audience for this movie. A quick browse of social media shows some interested people, but every holiday season countless ballets put on Nutcracker performances. There is obviously an appeal — it's just a matter of whether or not it'll translate from the theater to film.
Summary: All Clara wants is a key – a one-of-a-kind key that will unlock a box that holds a priceless gift from her late mother. A golden thread, presented to her at godfather Drosselmeyer's annual holiday party, leads her to the coveted key-which promptly disappears into a strange and mysterious parallel world. It's there that Clara encounters a soldier named Phillip, a gang of mice and the regents who preside over three Realms: Land of Snowflakes, Land of Flowers, and Land of Sweets. Clara and Phillip must brave the ominous Fourth Realm, home to the tyrant Mother Ginger, to retrieve Clara's key and hopefully return harmony to the unstable world.
The Nutcracker and the Four Realms, directed by Lasse Hallström, stars Mackenzie Foy, Keira Knightley, Morgan Freeman, Matthew Macfadyen, Helen Mirren, and Eugenio Derbez. It will be released on November 2nd.
Enjoyed this article? Share it!