Encino Man: Astin & Shore Congratulate Fraser & Quan's Oscar Wins
Sean Astin (Perry Mason) & Pauly Shore (How It Ends) celebrate their Encino Man co-stars Brendan Fraser & Ke Huy Quan's Oscar wins.
---
If there's anyone who couldn't be more proud of Brendan Fraser and Ke Huy Quan's Academy Award wins, it's their Encino Man co-stars Sean Astin and Pauly Shore. Directed by Les Mayfield and written by George Zaloom and Shawn Schepps, the 1992 comedy followed two high school outcasts, Dave (Astin) and Stoney (Shore), who discover a frozen caveman (Fraser) in their backyard. They named him Link (short for "Missing Link") as the two introduced him to modern 1990s life. The film marked Fraser's theatrical debut, and he would also garner critical acclaim for the historic drama School Ties, released later that year. The film also starred Quan as Kim (as Jonathan Quan), one of their friends from high school.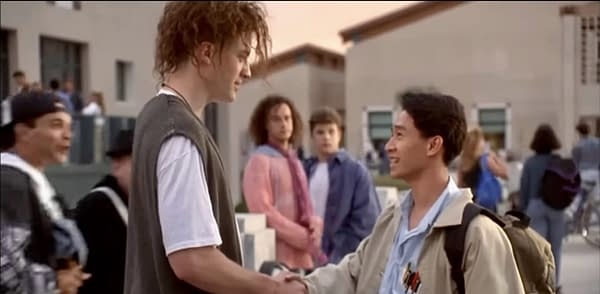 Encino Man Stars Triumph
Fraser won Best Actor for Darren Aronofsky's The Whale (2022), and Quan won Best Supporting Actor for The Daniels' Everything Everywhere All At Once (2022), both A24 productions. In one tweet, Astin wrote, "Always with dignity, grace, loyalty, hope, joy & inspiration…A forever moment Ke… I'm so happy, proud and over the moon…CONGRATULATIONS. Well earned!!!!" on Quan's win. "Brendan…a triumph of a performance by a gargantuan talent…and a very decent human being… I'm moved and incredibly happy for you… Well deserved and well earned…CONGRATULATIONS!!!!" the actor on Fraser's win. He also shared a still from the Mayfield film shaking hands with the caption, "Never a doubt…"
Shore tweeted not only about Fraser and Quan's wins but Oscar host Jimmy Kimmel's joke at his expense. "I don't know if you guys saw the [The Academy] Awards last night, but [Jimmy Kimmel] poked fun at me in the monologue. I loved it. But what I REALLY loved is that my old buddies from back in the day, Brendan Fraser and Ke Huy Quan, took home the Oscars! Never quit on your dreams." That last line echoed Quan's acceptance speech.