Chris Hemsworth's Thor Channels Johnny Cash in "Avengers: Endgame" BTS
One of the highlights of Avengers: Endgame was Chris Hemsworth's turn as Thor five years following Thanos' snap. Despite killing the Mad Titan after finding out initially the Avengers couldn't restore the infinity stones, Thor fell into depression living on earth in New Asgard with his fellow refugees, letting himself go in the process. When the time heist was conceived, he became reluctant to accept the offer from Hulk (Mark Ruffalo) and Rocket Raccoon (Bradley Cooper) to join.
In between takes while in his fat suit, Hemsworth busted out his acoustic guitar to play a cover of Johnny Cash's rendition of the Nine Inch Nails song, "Hurt."
Hemsworth initially revealed the behind scenes video on The Tonight Show Starring Jimmy Fallon and has since tweeted the clip. It's not a bad rendition.
Adrift in space with no food or water, Tony Stark sends a message to Pepper Potts as his oxygen supply starts to dwindle. Meanwhile, the remaining Avengers — Thor, Black Widow, Captain America and Bruce Banner — must figure out a way to bring back their vanquished allies for an epic showdown with Thanos — the evil demigod who decimated the planet and the universe.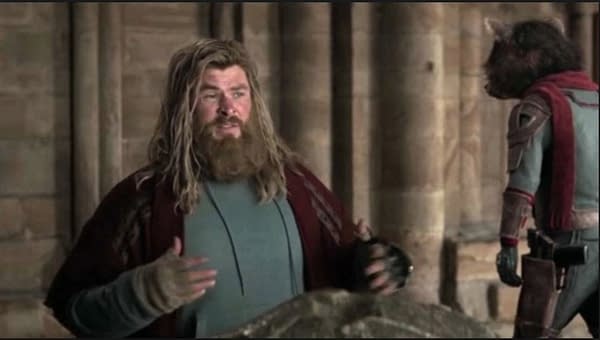 Directed by the Russo Brothers, the film also stars Robert Downey, Jr., Chris Evans, Scarlett Johannson, Jeremy Renner, Paul Rudd, Don Cheadle, Karen Gillan, and Josh Brolin.
Avengers: Endgame is currently in theaters.
You can also check out Hemsworth in Men in Black: International currently in theaters.