Hear the track "Halloween Triumphant" From the John Carpenter Halloween Score!
John Carpenter is back home, and my god is it good to have him.
Sacred Bones Records has posted a full track from this week's new halloween film, featuring a new score by the master himself, Cody Carpenter, and Daniel Davies. Delivering on his promise to both keep things familiar and modernize the iconic and familiar themes from the first film, this track is John Carpenter at his best. Incorporating the iconic original cues and adding in fresh elements, here's hoping your theaters sound system this weekend can handle the awesomeness. Close your eyes and listen to the track down below:
The film takes place 40 years after the events of that fateful Halloween night that Michael came home in 1978. Since then, Michael is now in an asylum. A British film crew decides to do a documentary on his exploits, and wouldn't you know it, he escapes. Getting ahold of his iconic mask, he makes a beeline for Haddonfield to finish the job. What he does not know is that Laurie (the returning Jamie Lee Curtis) has been prepping for this confrontation as well. The two will face off for what may or may not be the last time where it all began.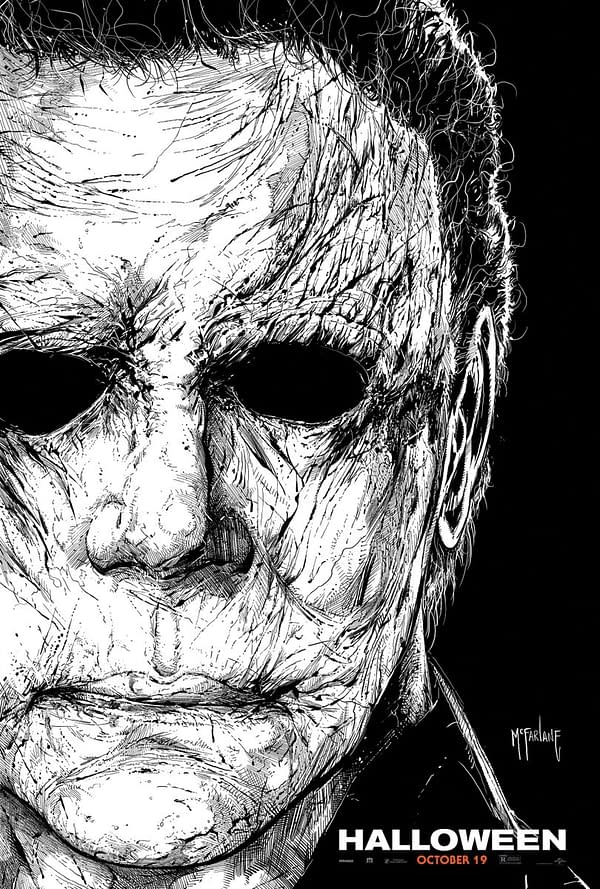 Halloween, starring Jamie Lee Curtis, Judy Greer, Andi Matichak, Virginia Gardner, Will Patton, Miles Robbins, Jefferson Hall, James Jude Courtney, and Nick Castle as The Shape, directed by David Gordon Green, hits theaters on this Friday, October 19th.
The soundtrack, scored by John Carpenter, Cody Carpenter, and Daniel Davies is out the same day.