Hateful Eight: Proposed iPhone Release Irks Quentin Tarantino
Universal Studios' exec Jeff Shell done more than his share of ruffling feathers within the entertainment industry. Following the release of the animated feature Trolls: World Tour straight to VOD, Shell suggested the practice to bypass or simultaneous releases with movie theaters could soon become the norm even after the quarantine. Universal recently followed through with two recent films in the drama The King of Staten Island and the horror thriller You Should Have Left. Unfortunately, Shell's proposal drew outraged AMC who since banned Universal films from showing at their cinemas. Regal took less of a hardline stance, but also declared that they wouldn't partake in simultaneous releases. Theatrical releases often enjoy a window of exclusivity before it hits the home market. If Universal follows up with its plan, it would cost the theater chains hundreds of millions from franchises like Fast & Furious. In a profile from The Wall Street Journal (H/T via Indiewire), Shell proposed the 2015 Quentin Tarantino film The Hateful Eight release straight to the iPhone.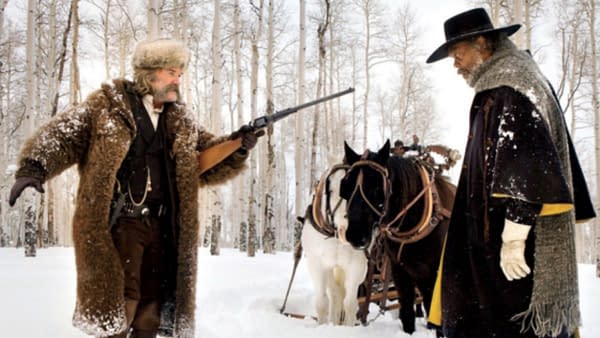 The Hateful Eight on iPhone: Are You Flipping Serious?
Tarantino met with Shell about releasing his Western. The director informed the executive of his costly demand with his intention to shoot The Hateful Eight on 70mm film and retrofit theaters across the country with projectors that could play the movie as he originally intended. Snell made a counterproposal, "What if we released it on iPhones?" "Great," Tarantino replied before storming out at the meeting. As ambitious as Shell's experiment would be, it no doubt undermined Tarantino's higher grade requests. It was also likely an outrageous insult to a filmmaker of his caliber. It ultimately cost The Weinstein Company around $60 million to produce and took a financial hit when it grossed $155 million worldwide. The Hateful Eight ended up Tarantino's final film for TWC as he moved on to make Once Upon a Time in Hollywood for Sony. He also since partnered with Netflix to release an extended version of the film in a limited episodic format.