'Heroes Rise' Through Fan-Made Video Content – Live At The Machinima Event In New York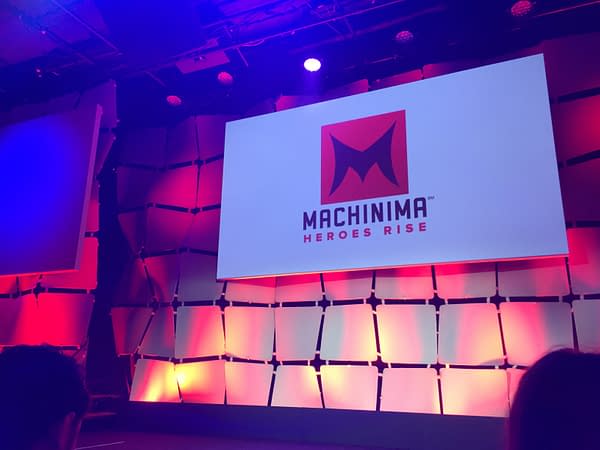 Bleeding Cool was invited to attend the Machinima Event in NYC at the Arena event space near Bryant Park, held in a Gothic façade building that was anything but that inside. The stage seemed set for a party, with plenty of neon pink hues.
Machinima is a "purveyor and cultivator" of "fandom and gamer culture", and operates via a number of platforms in video content. It "creates, curates and celebrates the best fandom and gamer content across multiple video platforms", according to the company. It plays host to the no man's land between geek fan culture and geek fan-made creative projects, specializing, it seems in the visual element, whether video interacting with comics and genre film culture, or video games and shows with professional actors onboard. Though I had heard of Machinima, my understanding was sketchy at best, so I settled in to hopefully get a better grasp of what these networking platforms do in gathering items under a single "brand" so geek culture can shop by symbol recognition in a curated way.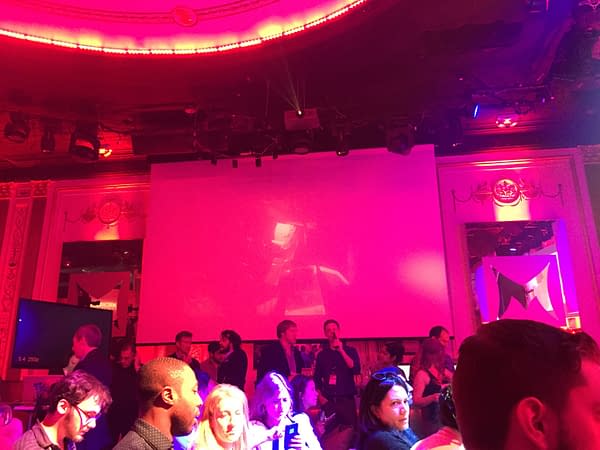 The "Rise Up" theme to the event heralded the "Heroes Rise" theme of new and returning releases on the network.
A trailer opened, narrating that ordinary superheroes are people "with the will to be extraordinary" whose "trajectory" is changed and the "balance of power" in their lives shifts. In this way "devoted fans" with the "right resources and support", can become "superheroes' through Machinima. This was interspersed with footage of superfans who now have super-hits on the network, "Where heroes rise". The idea seemed to be that fans become superfans through creating their own shows and "rising" through viewer support.
Chad Gutstein was introduced, the CEO of Machinima, to address the gathering. He explained that age 7, he wanted to be Batman, a "wealthy orphan", to his parent's chagrin. He explained that superheroes aren't idealized for their wealth or power but for their influence on others to "create something better". He referred to Machinima as the "most notorious" purveyor of material for gamer, comic, and hero fans. He referred to fandom and gaming as a "unique" connect between Millenials and their generation that encourages people to "invent" and "inspire" each other. He's looking for a "mobilized community of fans". They already engage "tens of millions of Millenials", he claimed, all of whom are "active participants".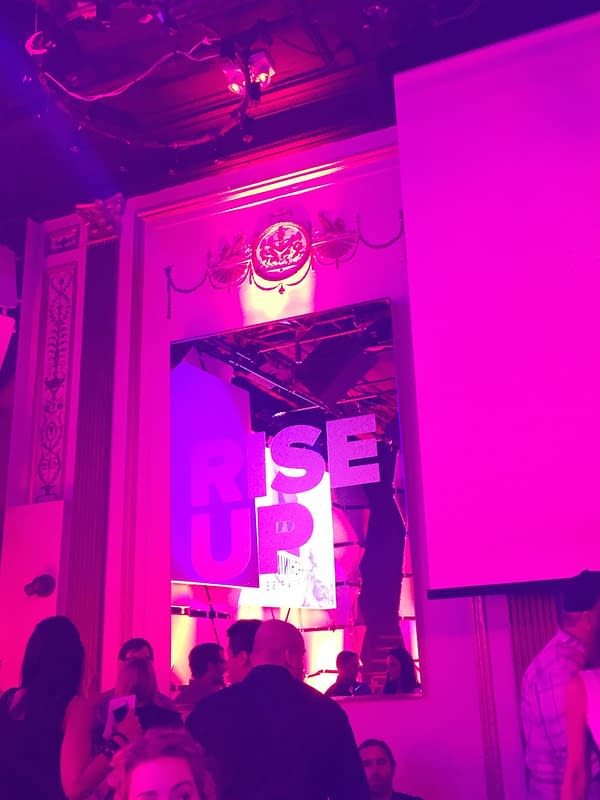 Machinima has created 400 scripted series and has garnered over 100 billion views, according to the presentation. Their show Mortal Kombat: Legacy is the most successful webseries in history, Gutstein claimed. Halo: Forward Into Dawn is now on Netflix, having originated on Machinima. Their four most watched series have generated "over a thousand years" of footage as watched. Their audience is "mobile first" and "socially engaged", he related, and tallied that 60 percent will engage with creators and other fans. Machinima was cited as the second largest network on Youtube. Compared to TV, and unlike TV, they are in "rapid growth mode" and have enjoyed a 60% increase in monthly viewership in recent days.
Due to scale, growth, and high value of audience, as well as innovative video content, Gutstein encouraged companies to "move" from TV to Machinima instead. Gutstein brought on stage an example pitch for a new show based on Minecraft, The Baka Chronicles, featuring a sizzle reel. The show claims to already have over 4 million subscribers, but wants to move to Machinima, and will appear on the network. Gutstein explained that 30,000 creators work with Machinima, who remain "at their core" fans who want to "share their stories". [*See separate announcement article on Bleeding Cool here]
Chief Content officer Daniel Tibbets was then introduced. He described fans as "going to the ends of the earth" to "socialize" their fandom. Across gaming, hero-themed content, and comics, he said, they develop a "video content slate" optimized for "mobile consumption". He announced that in June, DC, Machinima, and WB will team up with Bruce Timm to introduce a dark universe where Superman is not the son of Jor-El and Batman is more Vampire bat than man and not Bruce Wayne. This will be Justice League: Gods and Monsters Chronicles coming to Machinima. Season 2 will be coming in 2016 and including a Green Lantern character this time. [*See separate announcement article on Bleeding Cool here]
Tibbets introduced car and cop content as being a major area of fan culture, and was joined on the stage by Robocop. This heralded a reality show style video show featuring Robocop, called, appropriately Robocops. [*See separate announcement article on Bleeding Cool here] The Happy Wheels "break out game", players use wheeled vehicles to traverse levels and attempt not to be decapitated or "wind up on a wall of spikes", the destruction of which is part of the fun. Fans come to "play the game" but also create their own levels, and 6 million have been created. Machinima will be the home of a series based on Happy Wheels, it was announced. A trailer for Happy Wheels the show was shown for the audience, boasting "trillions" of deaths in the game so far. It was, as it was advertized to be, comedically gory in every way. [*See separate announcement article on Bleeding Cool here]
There was a recap of returning series on Machinima, from unscripted series like the League of Legends Finals documentary style series "Chasing the Cup". There's also Deck Wars that follows 20 million players of a card tournament. ETC, their news/interviews pop culture show hosted the presentation. Inside Gaming is also back for its 7th season after 1200 shows. Animation returns as well in Happy Hour.
Chief Revenue Officer, Jamie Weissenborn took the stage to talk about who the "audience" is for Machinima, and described them as being ethnically diverse, "slightly more male" and having a "higher household median income" than many other networks. He shared that Machinima content has a 97% "like" rating, and used the example of the Halo: Nightfall launch featuring a fan art contest which went into "overdrive" in page impressions.
Crossing DC Entertainment with Machinima, Geoff Johns was introduced by video to talk about The Hero Project from DC. This is a new competition that will bring contestants to "secure a place" in the DC Universe with props, and visual effects provided for them to make their own shows, it seems. The goal is to produce a "live-action short video based on their own interpretations of characters from DC Comics' Starman comic book series". [*See separate announcement article on Bleeding Cool here]
A "new breed of horror" is coming with Creepy Pasta from Clive Barker. The project will be "entering into the world of Internet horror fan fiction, affectionately known as Creepy Pasta". The show will be "starting with viral urban legends", to make live-action episodes under Barker's curating eye. [*See separate announcement article on Bleeding Cool here]
Also coming up will be a show about a phone that gives the "hero" a power based on what's trending on her phone at the time. The "part time superhero" is being hunted by an "evil corporation" from whom she stole the phone. #4Hero is an adaptation of DC's Vertigo series Dial H. Machinima describe the show as:" a live-action, VFX-heavy action-comedy about a young woman named Nellie Tribble who is quietly desperate to make her mark on the world, but wholly unprepared to do so". [*See separate announcement article on Bleeding Cool here]
The "Bonus Stage" of the presentation posed what many films have in "common", listing them. Roberto Orci, the writer and producer, and now "Machinima creator" was announced. His new series will be called High School 51. Orlando Jones will be starring in the show, as well as writing for it. He'll be leaving his series Sleepy Hollow as Frank Irving. There he played a Police Captain, so he's "covered the bases" on "stereotype and role model", having also played a gangster, he joked live at the event. Roberto Orci joined the group by video to talk about the series. He's working "again" with Orlando Jones, since the two previously worked on Sleepy Hollow. The show takes place near Area 51, the "most top secret location on the planet", where a young narrator, introduced in a clip, goes to school as "the only human". [*See separate announcement article on Bleeding Cool here]
Gutstein returned to remind the audience that Machinima is a "steward" of this millennial community who "love" their content because of their focus on fandom culture. He refered to the whole fandom process toward creation as a "hero's journey". Machinima seem very keen to encourage fans on that journey.