Howling 3 is heading home courtesy of Scream Factory. This is the debut of this film on Blu-ray, and it is a doozy for those of you who have never seen it. The disc will include a new digital transfer of the film, and new commentaries and featurettes. Other vintage interviews and the trailer will also be included. Check out the cover for the release and details down below.
You can preorder yourself a copy right here.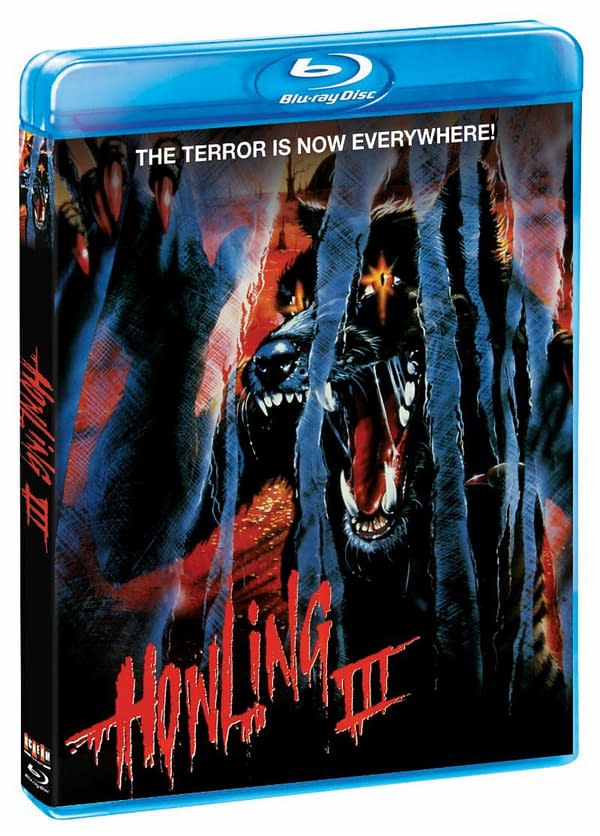 The terror is now everywhere! Scream Factory proudly presents Howling III on Blu-ray for the first time on January 15, 2019. This release of the third entry in the popular werewolf horror franchise features an all-new digital transfer and new bonus features including interviews and audio commentary with director Phillippe Mora.

The race is on as a colony of marsupial werewolves attempts to outwit and outlast their human counterparts in the offbeat horror film Howling III.

Long ago, the now-extinct marsupial wolf (a.k.a. Tasmanian Tiger) roamed the Australian Outback. Today, a werewolf colony that has descended from these marsupials has taken over the land. This race of human-like creatures roams the outback, feeding its need. The race for survival is on as the humans struggle to contain these out of control creatures.
Here is the list of Special Features:
NEW Digital Transfer sponsored by the National Film and Sound Archive of Australia
NEW Audio Commentary with writer/director Philippe Mora, moderated by filmmaker Jamie Blanks
NEW A Conversation with Philippe Mora – an interview with the writer/director
Vintage interviews from the documentary Not Quite Hollywood: The Wild, Untold Story of Ozploitation! by director Mark Hartley
Theatrical Trailer
Enjoyed this article? Share it!