James Gunn Announces Guardians Of The Galaxy Vol. 1 And Volume 2 3D-Exclusive Double Feature
Prompting a third article in a single day from Bleeding Cool based on his social media posts, Guardians of the Galaxy Vol. 2 director James Gunn took to Facebook to announce a double feature showing of Guardians of the Galaxy and Guardians of the Galaxy Vol. 2. The catch? The double feature showing is EXCLUSIVE to Real3D, which means you have to suffer through a painful, eyestrain induced headache, looking like a doofus wearing those glasses, and even more inflated ticket prices than usual if you want to watch it. But look, if it isn't worth suffering for, then what is it worth at all?
Here's what Gunn had to say on Facebook:
See a Marvel Studios Guardians of the Galaxy Vol. 1/Vol. 2 double feature exclusively in RealD3D on Thursday May 4th at 4:30. That's right! Over four hours of Guardians bliss with Guardians of the Galaxy Vol. 1 followed by Guardians of the Galaxy Vol. 2 at select locations. Guests receive an exclusive poster and souvenir collectible button set. Tickets Now On Sale at https://www.fandango.com/guardiansofthegalaxydoublefeature_200884/movieoverview

Oh and check out this awesome new poster!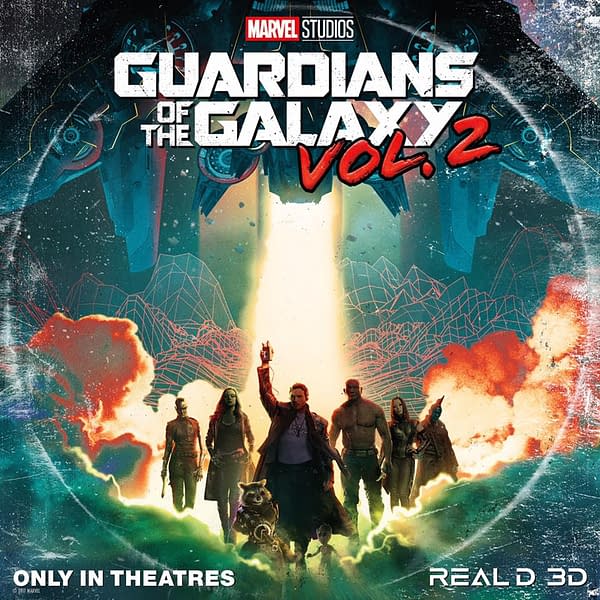 Along with Guardians of the Galaxy Vol. 2, the Guardians of the Galaxy Double Feature hits theaters on Friday, May 5 (which in the movie world, as Gunn points out above, means the evening of Thursday, May 4).
Now, we just need Gunn to release both movie's soundtracks together as a double album. That would totally ROOOOOCCCCKKK!