Jennie Kong, Stan Lee And The Start Of Human Bioengineering And Experimentation
https://youtube.com/watch?v=DdA9txx1m7s
Madeline Ricchiuto writes,
Stan Lee's World of Heroes YouTube channel premiered their first action music video, No Hero Now this a couple of weeks ago. The video features music by upcoming artists Vy Nguyen and Jason Chu alongside stars Jessika Van (The Messengers), Jack Yang (A Leading Man), Beth Riesgraf (Leverage), Dan Fuerrigel (Spartacus), Chelsea Harris (The Stalker), Tony Messenger (The Expendables), and is introduced by Stan Lee.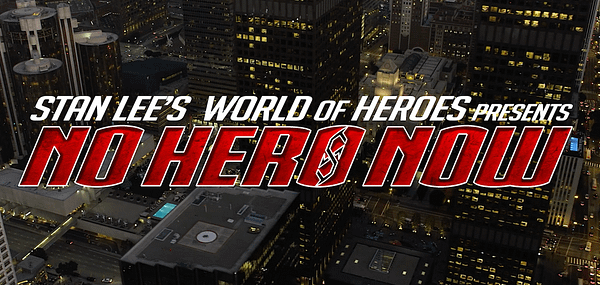 No Hero Now was written and directed by Jennie Kong (Made By Maggie) and tells the story follows former assassin Rian Leung (Jessika Van) as she faces off with newly powered super-villains, including millionaire socialite The Mantis (Beth Riesgaf), to rescue her former team leader. I interviewed Writer/Director Jennie Kong about her experience working on No Hero Now.
Madeline Ricchiuto: How did working on "No Hero Now" compare to your work on other videos?
Jennie Kong: "No Hero Now" was a big passion project and labor of love for me. When World of Heroes' Producer Yuka Kobayashi asked me if I would be interested in developing a new music video for the channel, I had a very clear idea after listening to the song of what I thought would appeal to Stan's community and fanbase. I'm hoping that there is enough substance from both the music side and story side for viewers. Compared to my other videos, this is the first time I've had the pleasure of working on a martial arts showdown, which was choreographed by the amazing Jimmy Lui and his team. He was great to collaborate with when we discussed the story of the fight sequence itself. He truly elevated my vision for that part of the video.
MR: What about the video would you consider the most important aspect? Is there one specific moment in it that speaks to you?
JK: I think the relationship between a fallen mentor (Sifu) and a reluctant prodigy (Rian) is pretty compelling. Sifu is both someone who Rian has come to both trust with her life, but somewhat despise as he has led her down the path while she grew up where violence, loss and betrayal was the norm. Their assassin lives finally caught up to them, and it sets the chain of events where Rian has no choice but to assume a pivotal role in stopping "The Maiden Voyage" which is the start of human bioengineering and experimentation with genetic super powers.
MR: What was the most difficult part of the shoot?
JK: The ambition of this music video was certainly high and so it was tough to shoot the video quickly across two short days. The post-production team was truly outstanding – our VFX artists, our sound designer/mixer and composer and colorist.
They brought the video to life on what we had to work with, they are true heroes of this project.
MR: Can we expect more action music videos coming to World of Heroes in the future?
JK: It would be great for the network to license more epic scale music content… I think it's on the cards. The audience has really responded positively so far so will see how much support they give within this genre of programming.
MR: What do you want viewers to take away from the project?
JK: I would actually love to hear what audiences think of the video. We make the videos for fans of music and this genre of storytelling – and so it's exciting to hear what they're most interested in