Kevin Feige Teases Skrull Secret Invasion Still Possible
With Disney acquiring the holdings of Fox this past week, the sky is the limit for possible future chapters of the Marvel Cinematic Universe. Marvel Studios boss Kevin Feige knows better than anyone how to properly tease just enough to get fans' hopes up without promising anything.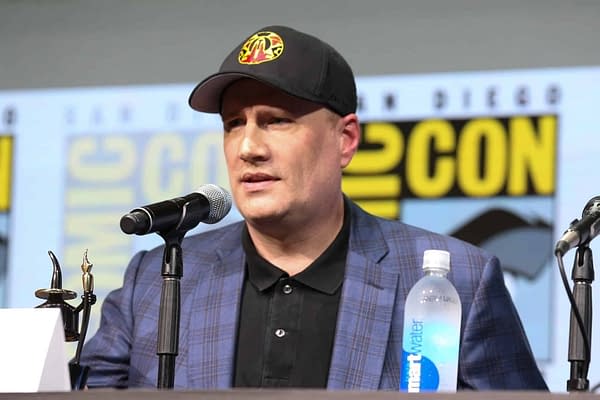 He recently did just this while speaking with ScreenRant about the possible future the Skrulls have going forward.
If you haven't seen Captain Marvel, then you probably will want to read something else as this sorta kinda contains spoilers on the nature of the green aliens and their purpose in the first female fronted superhero film in the MCU.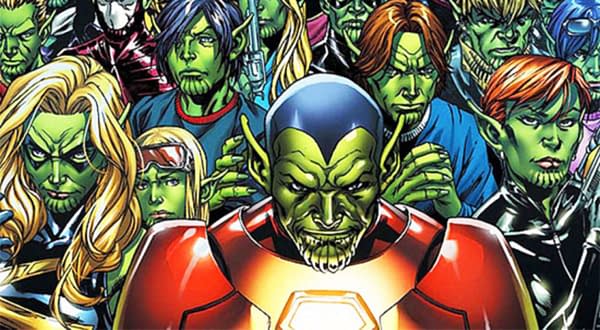 While speaking to ScreenRant, Feige answered some questions about the good terms Carol and the Skrulls appear to be on at the end of the film, and what the likelihood of us eventually getting Secret Invasion may be:
ScreenRant: This movie paints the Skrulls in an interesting light and leaves them on seemingly good terms of Carol and Earth. When we think Skrulls, we think Secret Invasion. Is that something that's still on the table after what's transpired and Captain Marvel?

Kevin Feige: I mean, anything we haven't done, anything from the books that we haven't yet done in film is always on the table.

SR: We've seen a small segment of the Skrull population now looking for sanctuary, where the rest and are they as nice as this group?

Feige: Great question. As Talos says there are many of them spread throughout the galaxy. And we've said, part of the twist that you're alluding to, is about flushing out these pointy eared, green aliens. Making them real, making them fully formed and part of, for better for worse, part of being fully formed and being a three-dimensional species is there are probably good ones as we've seen in this film. And there are probably bad ones.

SR: Let me just say that Ben Mendelsohn, even with all that makeup on, is so charming. He's incredible.

Feige: He's astounding. "TGBM," that was a phrase that we had during the making of the move, which is just Thank God for Ben Mendelsohn. Cause he's so good in that makeup.
Needless to say, we're really hoping for more Mendelsohn too.
Captain Marvel is currently in theaters now, and just passed $911 million world-wide.