Krypton Season 1, Episode 4 Recap: The Word of Rao
This article contains spoilers for the Krypton episode – The Word of Rao.
.
.
.
.
.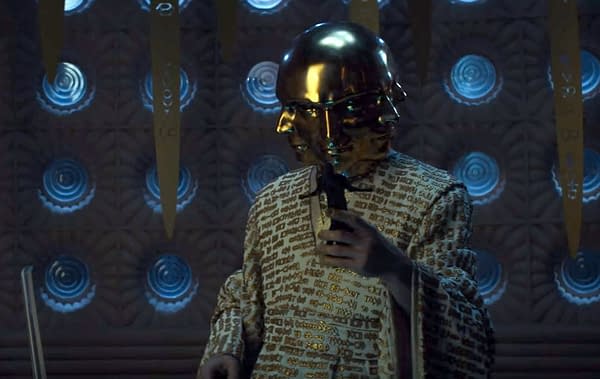 The fourth episode of Krypton, the Word of Rao, starts off with the Voice of Rao with two servants preparing him to walk among the Rankless. He calls for Nova Day to be moved up, sensing that the people need the rebirth that comes with it. But while he is out on the streets among the people, he is yelled at and derided. A near riot starts, but the sisters stop the crowd and promises justice for what happened. He then goes to meet with Daron-Vex (Elliot Cowan) and demands some one of rank pays for the failure of the Rankless Initiative, someone from an established house.
We get our first look at Black Zero as they pose as members of the Sagitari and examine the communication hub that Rohm/Brainiac used last episode. Meanwhile at the Fortress Val (Ian McElhinney) explains to Seg (Cameron Cuffe) that Rohm (Alexis Raben) only has a few hours left to live. He and Adam (Shaun Sipos) head to Kem's, noticing that they're being followed. They let Kem (Rasmus Hardiker) know and he takes Ona (Tipper Seifert-Cleveland) to meet the woman who raised him, and he tells Ona that Rohm isn't coming back. Ona, still holding the effigy of Rao her mom gave her, asks to make an offering to Rao for her mom.
Lyta (Georgina Campbell) is forced to answer for disobeying orders and is standing up to the council when Daron comes in and arrests her for conspiring with Black Zero. She is his scapegoat. Seg finds out and goes to talk to her but is stopped by Dev (Aaron Pierre) and then Jayna (Ann Ogbomo). Failing there, he goes to see Nyssa (Wallis Day) and asks for her help with Lyta. She asks him why and he admits that he loves Lyta. Nyssa goes to visit Lyta, who is confrontational before Nyssa explains that she is there to help on Seg's behalf and gets Lyta to tell her side of the story.
Seg decides to take Rohm's body to the authorities to clear Lyta, but as he heads out, he is taken down by the Black Zero group posing as Sagitari. He wakes to find himself strapped to a chair and a bug is inserted into his nose. The bug causes him lots of pain until the pull it out of his ear. The nameless commander (Colin Salmon) appears to talk to Seg and explains that the bug would tell him if Seg was one of Brainiac's sentries. The Commander wants to know what happened in the communication hub and wants to make sure that the sentry has truly been destroyed as it would move on to another host if it could. Seg offers to work with him in exchange for breaking someone out of prison. The Commander agrees.
Kem takes Ona to make the offering to Rao and she runs up onto the podium the Voice of Rao is standing on. Guards turn their guns on her, but Kem calms things down talking about how Ona just wants to make an offering and that Ona just loves Rao. The Voice takes the effigy Ona offers and then takes Ona in as one of his servants, moving her out of the Rankless and the crowd cheers. She comes back later and in her new garb, leads everyone in the Nova Day prayer.
Nyssa confronts her father about getting Kol-Da (Andrea Vailiou) to lie against Lyta and explains that Seg loves Lyta and their plan to use Seg to unite all the houses will fail of Lyta dies. He wants to over throw the Voice of Rao but is still following his orders. Nyssa goes to Jayna and enlists her aid for overthrowing the Voice in exchange for her help in saving Lyta. Jayna doesn't trust Daron but goes along to save her daughter.
Adam goes to the Fortress looking for Seg, but Rohm wakes long enough to tell him that he must stop Ona… and then she dies. Meanwhile Seg gets loose from this shackles and fights one of the renegade Black Zero guards and finds his way out of their base, ending up wandering through the Outlands with a bleeding arm and a rifle. But the big reveal comes at the end with the Voice of Rao is alone in his chamber and looks at the effigy that Ona gave him. It breaks open and bites into his arm, infecting him with the sentry and now Brainiac has control of the leader of Kandor.
The preview for episode five gives us a hint on who the commander is and that's kind of cool. Nyssa is quickly becoming one of the best characters on the show, sort of a Lady MacBeth level manipulator, something very Game of Thrones like. There was also a funny Dr. Strange reference when Adam tries to explain what Val should call him.