Let's Talk About America's Next Top Model Cycle 24 Episode 11
Let's talk about America's Next Top Model cycle 24 episode 11, "Beauty is Personality". VH1's episode description for this week reads:
The models learn personality goes a long way as they are challenged to design an avatar for the new America's Next Top Model mobile game; the ladies tap into their inner video vixens.
Also, if you missed it last week, you can catch up on what happened here. Don't forget that VH1 has this cycle's episodes on their website, within a day or two of airing. And you can watch the interview segment with judge Drew Elliot and the girl that went home in episode 10 here (spoiler: it was Erin).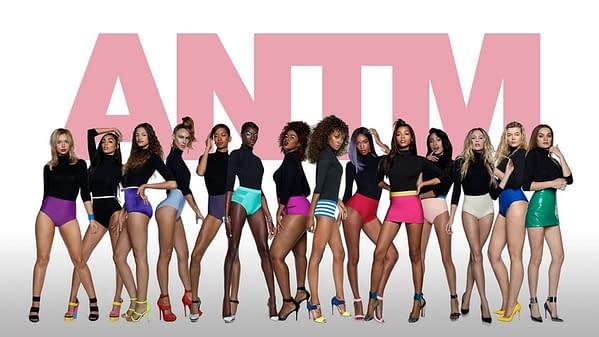 As a reminder, prizes for the winner of this cycle of America's Next Top Model include a cover and spread with Paper magazine, modeling contract with Next Management, and the new twist this year: an ANTM mobile game where the winner will be an avatar along with Tyra, and $100k from Pantene.
Things that happened in ANTM c24e11:
Last week, Erin was sent home after the contestants went on their first set of go-sees
The episode starts with the tail end of panel from last week
Tyra tells the girls, "it's time to see if your personality is strong enough to keep you in the game."
She sends the girls backstage to start to think about what the challenge is going to be.
Tyra calls them back into the panel room, and a large TV shows Tyra's avatar on the mobil game
She reveals the contestants will be designing their avatars for the game, and they'll be presenting them.
Tyra also introduces David Ortiz of Emortal Productions, designer of the game
The winner for the challenge will get to go to The Celebrity showroom and work with Law Roach to put together an outfit
Rio presents her avtar first. "She does an imaginary hairflip, because I do it all the time. And I want her to have my head scar."
Kyla has her avatar be very socially conscious
Shanice put her alternate personality "Sha-Nasty" into her avatar, complete with dance moves
Khrystyana presents hers with the most adorable Russian catchphrase
Jeana falls super flat with her explanation, Law tells her she needs more personality and fun in her character
Khrystyana wins the challenge, and Jeana is irritated
Jeana goes kinda bitchy in the car ride home, saying that Khrystyana wasn't prepared enough to know to pack enough outfits.
Back at the house, Rio is sort of pushing everyone's buttons again.
Khrystyana finds Jeana in tears later that night, and even though Jeana's been kind of a bitch to her, Khrystyana hugs and her and gets Jeana to tell her what's bothering her.
The next morning, the girls go to their shoot, which is all about personality
Drew is there to meet them, and Director X is back to direct their fashion music videos
Drew introduces Maejor, who wrote the song they'll be performing in the shoot to.
The shoot starts with a posh, conservative dinner party, with the girls dressed very demure and upper class.
Both Rio and Jeana get told they're not doing enough in the first take
Tyra shows up on set, and takes a seat at the end of the table
Wow, Kyla's high fashion look is pretty great on her, and she's really come into her own on this shoot
Kyla admits to Drew that she really likes Director X, and he picks her up off the table
Jeana just isn't finding her light, and she isn't serving nearly as well as she has before
Rio is wearing a damn gold snake jumper and she can't perform today. She breaks down in the confessional area
Shanice is doing pretty well, maybe not going as big and bold as they wanted, but still strong
Khrystyana looks amazing, and she's so into the moment, she breaks her shoe. Shanice immediately checks and makes sure she's ok, but Jeana is nothing but attitude- and even a smirk
Khrystyana and Shanice are doing a pillow fight scene, and Jeana jumped into the scene without any warning.
TyraMail #1: "What's it gonna take to get into the top 4? Next. Level. Fierce. A cut is coming."
The girls go to panel, Tyra introduces the judges, Director X joins the panel this week, and reminds them of the prizes
The video is shown, and it's cute
Kyla loses her cool, and gets way giggly and admits her crush on Director X
Khrystyana apologies to Jeana for assuming she jumped into the scene, and instead of just saying "ok", Jeana pulls a sleeping bag over her head to end the conversation
Best photo goes to Khrystyana
It comes down to Rio and Jeana
Rio gets to stay, and Jeana is going home
Kinda glad Jeana is gone, her attitude was pretty terrible the last three weeks. Join us next week for c24e12, which is a runaway and some of the eliminated contestants return, as well as NIGEL!