Galactic treasure Mark Hamill has opinions, and he doesn't care who knows them.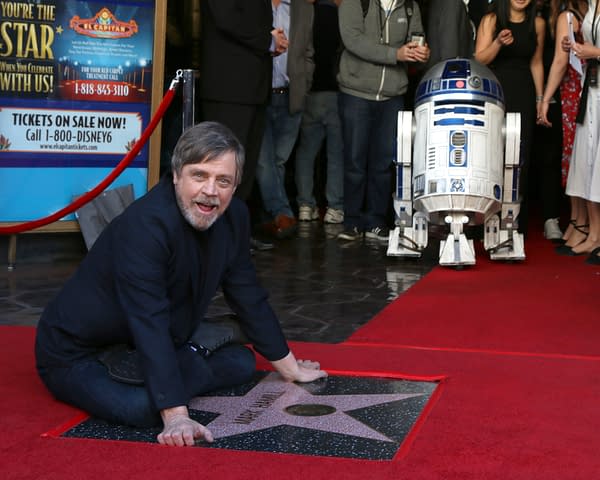 Perhaps you've seen the recent destruction of Donald Trump's star on the Hollywood Walk of Fame, which has caused the city of Los Angeles to organize a vote on whether or not to outright replace the star. This is not the first time the star was been vandalized, but it's certainly the most damage the sidewalk has seen since the plaque was first installed.
Today on Twitter, Hamill commented that someone more deserving should get the spot, and he had the perfect suggestion.
How about replacing it with someone who really earned it? Like @carrieffisher https://t.co/f1XMXanpWP

— Mark Hamill (@HamillHimself) August 6, 2018
This, of course, caused many commenters to respond in baffled disbelief, how is it that our dearly departed Carrie Fisher doesn't have a star yet?
Anyone, including fans, can nominate anyone active in the field of entertainment as long as the nominee or his or her management approves the nomination (a letter of agreement from the nominated celebrity or representative must accompany the application). Nominees must have a minimum of five years' experience in the category for which they are nominated and a history of "charitable contributions". Posthumous nominees must have been deceased at least five years. At a meeting each June, the committee selects approximately 20 to 24 celebrities to receive stars on the Walk of Fame. One posthumous award is given each year as well.
The process of a star being issued to someone is a drawn out thing, and yes, the recipient (or someone on their behalf) must pay for it. A fee of $40,000 (as of 2018), payable at time of selection, is collected to pay for the creation and installation of the star, as well as general maintenance of the Walk of Fame.
So, how about instead of that petition to remake Star Wars: The Last Jedi, we get one together to get Carrie her star?
UPDATE:
As of this morning, The City of Los Angeles has UNANIMOUSLY voted to remove Trump's star.
Enjoyed this article? Share it!