Kate McKinnon is a national treasure. Her impressions and character work, week after week, are consistently the funniest part of Saturday Night Live. This week was no different, as McKinnon joined the Weekend Update segment alongside Cecily Strong to portray French national treasure actress Brigitte Bardot with Strong's Catherine Deneuve in an interview segment with co-host Colin Jost, who, as usual, just did his best not to laugh.
Bardot and Deneuve have been in the news lately for their involvement with the #MeToo movement against sexual harassment in Hollywood, but not on the side you might expect. Deneuve was one of the French women who signed an open letter calling the #MeToo movement a witch hunt against men. Following backlash to the letter, Deneuve apologized to sexual assault victims, but Bardot went in the opposite direction, commenting in a French magazine about #MeToo victims:
"The vast majority are being hypocritical and ridiculous. Lots of actresses try to play the tease with producers to get a role. And then, so we will talk about them, they say they were harassed. I was never the victim of sexual harassment. And I found it charming when men told me that I was beautiful or I had a nice little backside."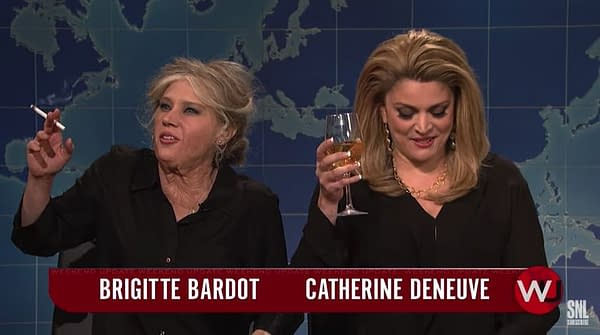 Those comments were the perfect subject material for McKinnon, who has similar experience playing her original character Debette Goldry, an elderly actress from the Golden Age of Hollywood whose outrageous fictional opinions are similar to Bardot's real-life ones. Strong, meanwhile, plays off of Deneuve's backtracking, as, just as in real life, Deneuve regrets aligning herself with women who take the position too far. All things considered, however, McKinnon took it pretty easy on Bardot, who is a supporter of France's far-right political party and has been fined multiple times by the government for inciting racial hatred.
Watch the segment, which begins around 4:05 in the video below.
In the second half of Weekend Update, one of the other funniest people on SNL, Keenan Thompson, wasn't about to be outdone, playing his recurring character of Michael Che's neighbor Willie in a sketch about the month of February that somehow veered into puppy molestation. See that segment at around 5:05 in the video below.
Enjoyed this article? Share it!