Mission: Impossible Got Better When It Stopped Trying To Be James Bond
The spy genre has been making waves in movies for almost as long as there have been movies. There is more than enough room for many different variations of the genre, but when the Mission: Impossible films hit the big screen, there wasn't that much separating them from the other spy movies. The first three movies grossed a combined $1.4 billion dollars, but the box office of the third one was significantly lower than the previous entries. It was clear that something about the Mission: Impossible movies just wasn't grabbing audiences in the way it used to. Casino Royale had brought James bond back in a big way, and it didn't really look like there was much room for two movies about one man against the world. We had James Bond again, so why did we need Ethan Hunt? Almost six years would go by before the Mission: Impossible movies would come back in a big way, and finally embracing an element that would help set it apart from James Bond movies, a team dynamic.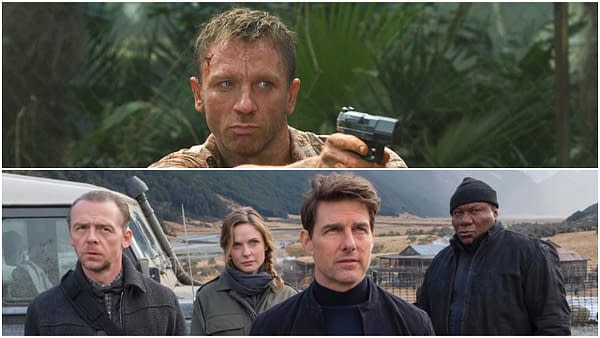 Mission: Impossible Works Better As A Team Movie
Simon Pegg played a brief supporting role in the third Mission: Impossible and Ving Rhames was player, but the first three movies are about one man, Ethan Hunt, going up against a bunch of bad guys. The first movie quite literally opens with the slaughter of the team that Hunt previously worked with. Mission: Impossible – Ghost Protocol served as a soft reboot for the series and bumped up players like Pegg into much more prominent roles and brought on Jeremy Renner and Paula Patton to help fill out the team. The TV show was all about team dynamics, and it took four tries, but the Mission: Impossible movies finally started to figure that out. They got you to care about the supporting players and not just Hunt. The films went from another one man against the world story to a bunch of people working together to save the world.
The team dynamic only improved in Rogue Nation and Fallout. While Patton didn't return to the series, Rhames got to take on a bigger role starting in movie five. Renner is missing from movie six, but they made the genius decision to bring on Rebecca Ferguson as a fantastic addition to the team. Ferguson's Isa Faust is a fascinating character, but she also blends exceptionally well with Tom Cruise's Hunt and Pegg's Benji. These sorts of movies wouldn't work unless the relationships between the characters are believable. Tom Cruise and director Christopher McQuarrie have carved out their own section of the spy genre with this focus on supporting cast and Cruise doing more and more insane stunts.
The box office reflects that this change is very much working for the better. The first three movies grossed $457 million, $546 million, and $398 million, respectively, movies four through six have grossed $694 million, $682 million, and $791 million. The latter two movies have been critical darlings with Fallout ending up on a lot of "best of" lists in 2018 and rightfully so. There is a reason Paramount Pictures asked McQuarrie to come back for movies seven and eight and why they greenlit movies seven and eight at the same time. This focus on team and stunts has given the Mission: Impossible movies their own place in the market, and they are better now than they ever were when they were trying to a James Bond or Jason Bourne movie.