Mondo Debuts Black Panther Collectible Pint Glass from Francesco Francavilla
Want to get your drink on Black Panther style ahead of the upcoming release of the Marvel Studios film? Mondo has you covered with a new Black Panther pint glass featuring art by superstar artist Francesco Francavilla. The Italian comic book artist who helped revolutionize Archie Comics as the artist of Afterlife with Archie along with other accomplishments too numerous to list here has prior experience with the Panther, drawing the series Black Panther: The Man Without Fear with writer David Liss back in 2010. In that series, T'Challa took over Daredevil's ongoing series and his role protecting Hells Kitchen after Daredevil temporarily became a villain during the Shadowland event. Hey, it happens to the best of us.
Francavilla tweeted about the glasses after they were revealed on Alamo Drafthouse's website:
The Mondo glasses, which feature a wraparound image by Francavilla, are available with the purchase of Black Panther tickets from Alamo Drafthouse. No word on whether the glasses are infused with vibranium to prevent breakage if you get too drunk and drop them. Black Panther hits theaters on February 16. Check out the glasses below: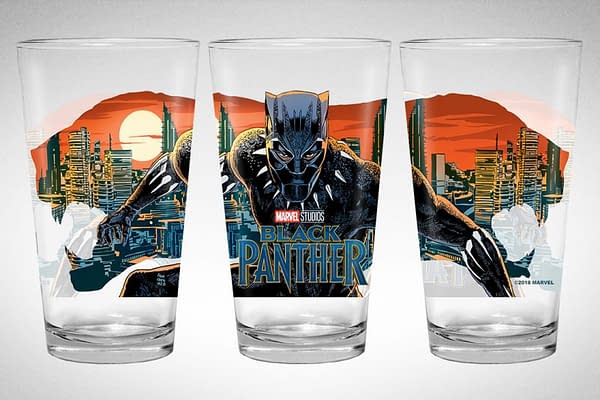 After making a powerful debut in CAPTAIN AMERICA: WINTER SOLDIER, King T'Challa/Black Panther (Chadwick Boseman) returns to the big screen in a powerhouse solo movie. Taking place in the secluded, technologically advanced African nation of Wakanda, BLACK PANTHER sees T'Challa battling the combined forces of exile Erik Killmonger (Michael B. Jordan) and arms dealer Ulysses Klaue (Andy Serkis). With the aid of the CIA and Wakanda's all-female special forces, T'Challa must battle his new foes for the future of the country – and the world.