Author JK Rowling really did change the world with her young witches and wizards novels, an impact we're still feeling 20+ years later.  Aside from being hugely successful books on their own, the Harry Potter film universe remains as popular as ever.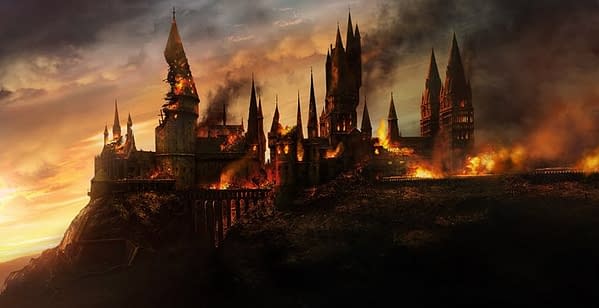 May 2nd marks the anniversary of the Battle of Hogwarts, when Voldemort's Deatheaters attacked the School of Witchcraft and Wizardry, which was defended by students and teachers, former and current.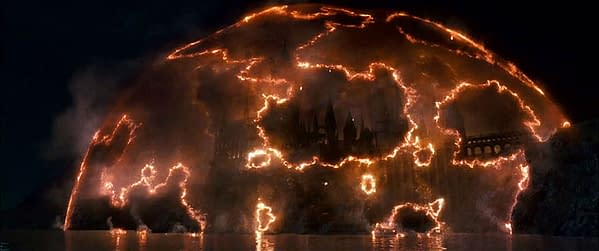 I can count on my hand the number of times I've gotten goosebumps from reading a passage in a book, but the Battle got me twice.  When McGonagall sets the shield, and when it falls. Talk about a film living up to the book, I have to say the sequence in the movie got me just as much and still does today.
The cost was high, friends and lovers laying down their lives to protect 'the chosen one' from the forces of evil.  We lost many characters during the battle, and each year Rowling takes to her twitter to apologize for a death.  In 2016 it was Remus Lupin, and last year (2017) it was Severus Snape.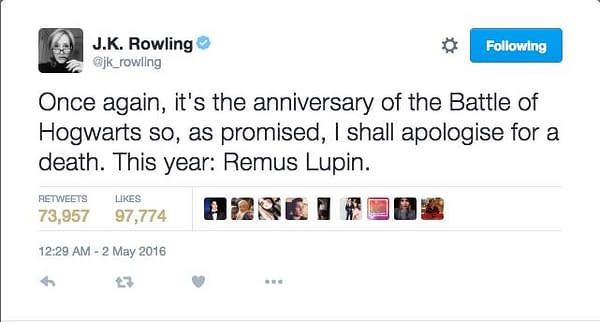 This morning, she apologized for perhaps one of the most heartbreaking deaths NOT associated with the Battle, Dobby the house elf who gave his life for his friend Harry Potter.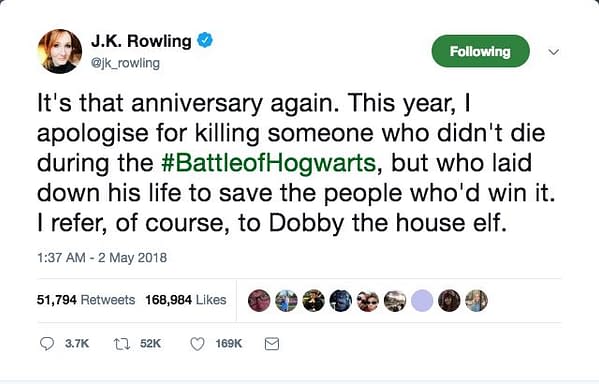 The comments, as always, are a mixed bag of people complaining that their favorite hasn't gotten an apology yet, or that it's silly to mourn fictional characters (first of all how dare you), but there are some like this one:


Thank you for your imagination, JK Rowling, we will honor the Battle and those who we lost.
Wands up.
Enjoyed this article? Share it!