In another example of pop culture becoming incredibly important to the social consciousness, Black Panther items are headed to the Smithsonian National Museum of African American History and Culture.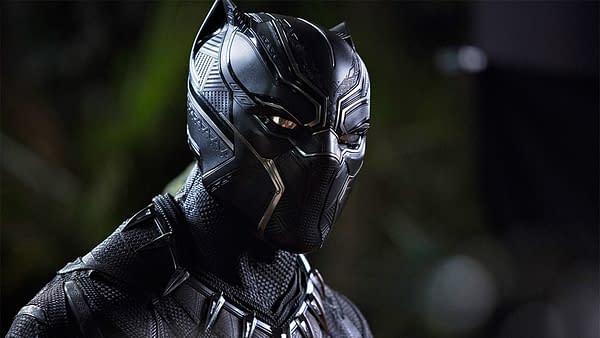 Specifically, the museum will be gaining one of Chadwick Boseman's hero (meaning an item that was used by the main actor on screen in a film) T'Challa Black Panther costumes. Costume designer Ruth E. Carter and her team truly outdid themselves with the blending of style, technology, and homage to the comic books the hero hails from.
There will also be a shooting script signed by Ryan Coogler (co-writer; director), Kevin Feige (producer, president of Marvel Studios), Nate Moore (executive producer) and Joe Robert Cole (co-writer; producer). In addition to that, two pages of spec script, and 24 high-resolution production photographs.
The 18th film in the Marvel Cinematic Universe, Black Panther shattered records right and left, and topping the 5th spot in the all-time greatest opening weekends. Until Avengers: Infinity War hit, of course, which dropped Panther back down to 6th.
The Black Panther collection will be on display to celebrate the inaugural Smithsonian African American Film Festival, which is scheduled to run from October 24th to the 27th 0f 2018.
The Smithsonian reports that plans for permanent display of the costume and additional objects are under consideration by the National Museum of African American History and Culture.
Enjoyed this article? Share it!