Mondo Music Release of the Week: Halloween Galore!
Mondo releases new vinyl special editions every single Wednesday. They are they ultimate edition of whatever they put out, featuring extensive liner notes, brand-new commissioned artwork, and always have a limited-edition size. The vinyl itself is usually colored or a photo disc, as well. Basically, it's like the Criterion Collection of movie and gaming soundtracks. This week sees the preorders go up for the soundtracks to Halloween 4 and 5, along with a cool announcement to celebrate the 40th anniversary of the series!
To celebrate 40 years of the HALLOWEEN franchise, Death Waltz Recording Company is thrilled to bring you a newly re-mastered version of the score to HALLOWEEN 4: THE RETURN OF MICHAEL MYERS on vinyl for the first time in 30 years, mastered in 2018 by Alan Howarth. This score marked the first time Howarth was working solo within the franchise and he takes the blueprint he and John Carpenter created, but weaves new themes for both Jamie and Michael within the familiar framework of the 5/4 theme timing.

HALLOWEEN 5: THE REVENGE OF MICHAEL MYERS has again been freshly re-mastered by composer Alan Howarth for this first vinyl re-issue in 30 years. He once again takes the familiar HALLOWEEN blueprint but expands it greatly utilizing layers of synths to create a fresh take on something that is familiar to all fans of the franchise.

In addition to the records themselves, we have produced a slipcase featuring artwork by Mike Saputo that ALL FIVE releases will sit in. It's absolutely stunning! The slipcase will ship free to anyone who buys the HALLOWEEN 4 and 5 bundle. $60

The rest of our schedule looks like this:

HALLOWEEN III: THE SEASON OF THE WITCH – Music by John Carpenter and Alan Howarth. Original artwork and design by Alan Hynes (Available this August)

HALLOWEEN II – Music by John Carpenter in association with Alan Howarth. Original Artwork by Paul Mann (Available this September)

HALLOWEEN – Music by John Carpenter. Original Artwork by Mike Saputo (Available this October)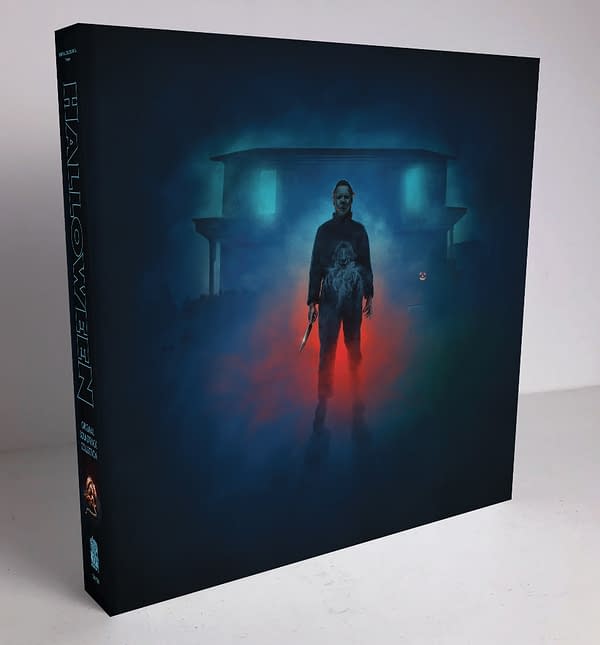 Clearly the way to go here is to order the slipcase. I can't wait to get my hands on these releases. The franchise has had such iconic music, and to have these all housed in a gorgeous slipcase like this is a Michael Myers fan dream come true.