So, currently I'm stuck inside due to all of the ice outside, so I've been toiling away in my kitchen, making some really unhealthy (yet delicious) treats. This also means I've been looking for new items to create on my down time. Disney Family has been a blessing, since they have some adorable — and creative — recipes for people to try. These Frozen Olaf milkshakes are next on my list of things to try, and I can't wait!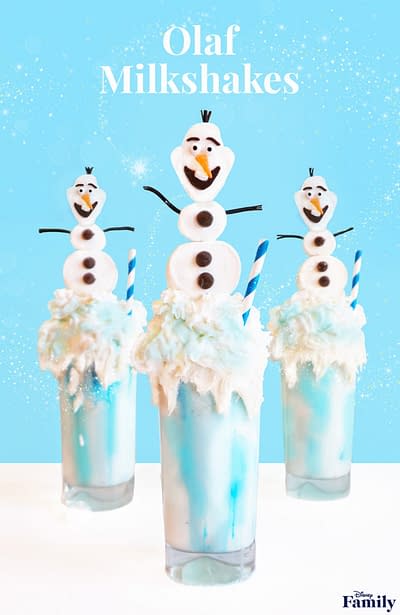 OLAF MARSHMALLOWS:
1 bag jumbo marshmallows
Candy eyes
Zip-top bag (for piping)
Scissors
Chocolate icing
Orange candy for nose (like gumdrops)
1 bag large marshmallows
1 bag chocolate chips
Skewer
Black string licorice
MILKSHAKE:
2 cups vanilla ice cream
1/2 cup milk
DECORATION:
Vanilla icing
White sugar
Blue food coloring
Whipped cream
Blue sugar sprinkles
Directions
Olaf Marshmallows: Start by cutting your jumbo size marshmallows in half (you will need two halves for each snowman). Shape the edges of one of the halves to form more of an oblong shape for Olaf's head. Save the other half to use as the base of his body.

Next, fill your plastic bag with chocolate icing and cut a small hole in one corner to use as a piping bag. Use the icing to attach candy eyes and to create eyebrows and a smiling mouth. Grab your orange gumdrops and a pair of scissors and cut into small triangles for his nose. While you have your scissors out, cut a small rectangle from one of your marshmallow scraps for a tooth. Attach nose and tooth using chocolate icing.

Next, grab the other half of your jumbo marshmallow and large marshmallow to build Olaf's body. Using your chocolate icing, attach three chocolate chips as buttons. Once icing has dried (about five minutes) assemble Olaf on your skewer, starting with the larger body marshmallow and finishing with his head on top.

Lastly, cut three 1" pieces from your licorice string and score one edge to create frayed hair and three fingers. Poke arms into the smaller body marshmallow and hair into the top of Olaf's head.

Milkshake: Start by blending milk and ice cream in blender until creamy (about one minute). Before pouring into glasses, rim the edges in vanilla icing using a blunt butter knife and sprinkle with sugar to give an icy appearance.

Place a few drops of blue food coloring into the glasses to add a pop of color. Once glasses are filled, top with whipped cream and sprinkles. Finish off by adding your Olaf marshmallow creation and enjoy!
Enjoyed this article? Share it!