Nightmare Before Christmas fans have new enamel pins to collect. Mondo has five new pins available for fans to purchase, including Lock, Shock, and Barrel, a vampire bat, the Harlequin Demon, and Oggie Boogie with an attached bug. If you get them all, you get a bonus pin of one of the Vampires from Halloweentown. Artist Graham Erwin designed the pins and apparently turned in so many designs that there will be many more of these Nightmare Before Christmas pins on the way. Mondo enamel pins are always high quality, so no worries there either. I have a bunch of the Marvel ones, and they are some of my favorites. The Oggie two-pack costs $13, with the others running you $10 a pin. Check them all out below.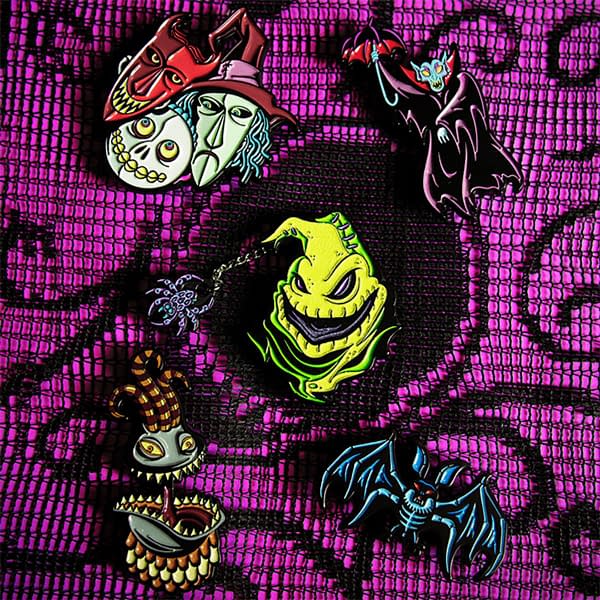 Nightmare Before Christmas & Mondo Are Match Made in Heaven
"Last October, we released a spine-chilling set of enamel pins for THE NIGHTMARE BEFORE CHRISTMAS designed by Graham Erwin. We are delighted to present the second set in this series, honoring the six-month mark until Halloween (though we wish we could celebrate every day, really) – four brand new enamel pins (and a special bonus with the purchase of a complete set) lovingly illustrated by Erwin, who was born to celebrate this iconic film. In this release, we're taking on the troublemakers – a 2-pin set of a glow-in-the-dark Oogie Boogie and his Vampire Bat, plus pins depicting the Lock, Shock, & Barrel troublesome trio, and a taunting Harlequin Demon. If you snag them all, you'll receive a bonus Vampire pin – one of the four blood-thirsty brothers residing in Halloween Town."
Mondo and Nightmare Before Christmas are a perfect match, as the film lends itself to creatives to monkey with the look and designs of the characters. Here is hoping we see even more collaborations over the property in the near future. You can order the pins for yourself here.
Enjoyed this article? Share it!