Brian Goldberg writes for Bleeding Cool:
I'm a sucker for an exclusive.  I'm especially a sucker for a limited exclusive.  Geek swag subscription service Lootcrate is offering a special NYCC box limited to 250 per day.  I am not a current subscriber but was excited to see what kind of surprise I would find when I got home and opened that sleek black box with the minimalist white label.
These boxes might be like snowflakes.  I'm not sure each one contains the same variety of goods, but mine was kind of a dud.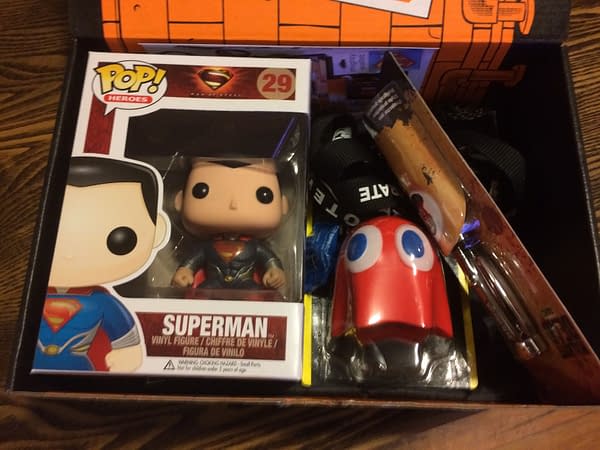 I got a Superman movie Funko Pop figure?  Snooze.  Bring a book.  I was hoping if I got a Pop it would have been an exclusive. A Pacman stress ball, a superman mighty wallet, 1 random piece of candy, a Lootcrate NYCC 2014 pin, a light up Walking Dead Pen (hello new cat toy!) and a NYCC string bag were included.  I didn't think there was anything special.
The only item I really appreciated was the Lootcrate brand lanyard.  I noticed the lanyards for the 2014 con were not sponsored and simply black string.  I'll switch to this one to give my badge a little flair and swagger.
Enjoyed this article? Share it!