We are just a few weeks away from Pacific Rim Uprising, which means it's time for more promo. In this case that means it's time for another new poster, this time of Gipsy Avenger taking a knee. Perhaps in protest.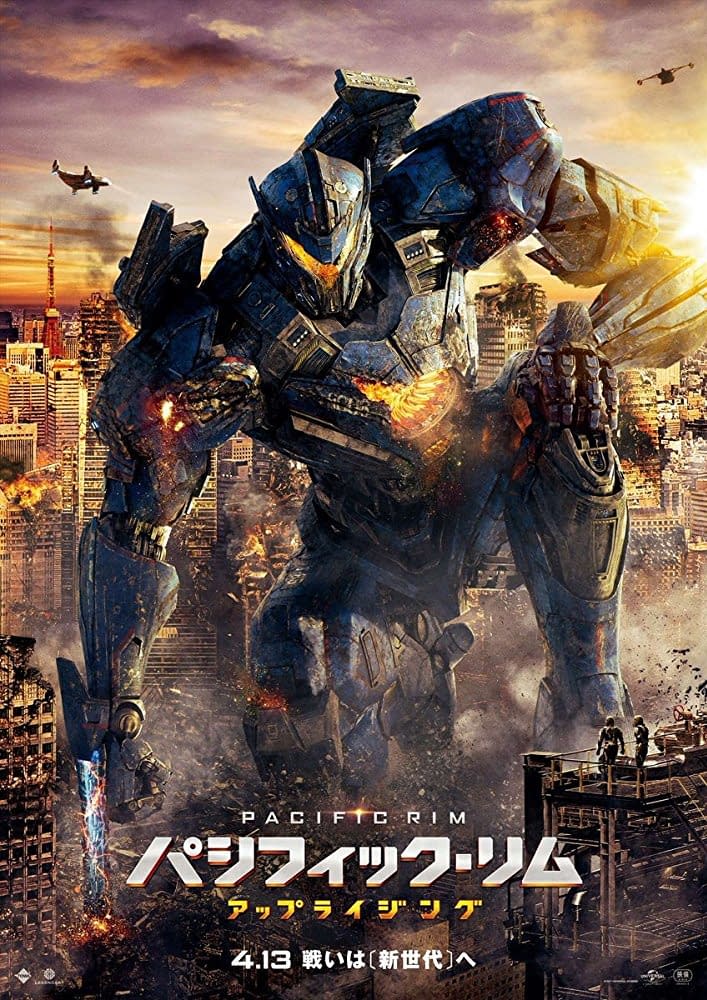 Next we have a clip that GameStop of all places managed to get ahold of. It shows that massive jaeger on kaiju fight that the trailers have been showcasing. It also shows us a new kaiju ability, which is similar to Black Panther suit: the ability to absorb and deflect energy.
Enter the battle with the new Jaegers in this action-packed exclusive clip from the upcoming #PacificRimUprising! pic.twitter.com/yBhuOQlimz

— GameStop (@GameStop) March 1, 2018
Next we have another clip this time from Yahoo. This clip has Jake (John Boyega) and Nate Lambert (Scott Eastwood) battle against the rogue jaeger Obsidian Fury.
Finally we have a new TV spot that shows off a bunch of new footage also from that big multi-jaeger fight. Aside from that fight we haven't seen much of the movie. We don't know where in the movie it falls but if it's like the previous movie it's in the middle of the second act. We probably haven't seen much of the third act yet.
Born into a world of mechs and monsters, this generation is prepared for war. #PacificRimUprising pic.twitter.com/J05BDAEgag

— Pacific Rim (@PacificRim) March 3, 2018
Summary: Jake Pentecost, son of Stacker Pentecost, reunites with Mako Mori to lead a new generation of Jaeger pilots, including rival Lambert and 15-year-old hacker Amara, against a new Kaiju threat.
Pacific Rim Uprising, directed by Steven S. DeKnight, stars John Boyega, Tian Jing, Scott Eastwood, Adria Arjona, Charlie Day, and Burn Gorman. It will be released March 23rd.
Enjoyed this article? Share it!